Brain Supercharger Mind Lab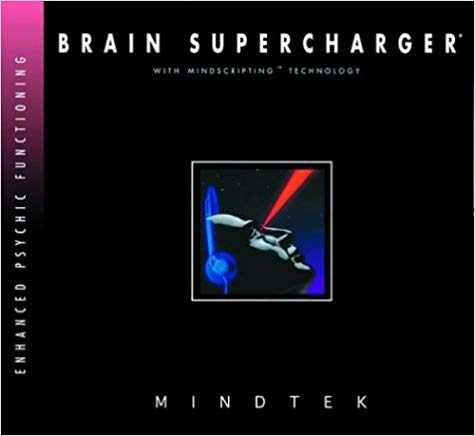 A breakthrough audio technology that alters consciousness opening a doorway into your subconscious to rewire negative self-sabotaging beliefs. Using a powerful combination of sound frequencies and special audio effects, your body becomes extremely relaxed as your mind is driven inward and fed a steady flow of psychic energy. Words can hardly describe the experience but it's like taking a 2 week vacation in 28 minutes.
What does a session feel like? One user described it as, "…it felt like I was sticking my tongue into a 220 volt electrical socket." Another said "It was as if I was being launched into another dimension." Training your brain to enter these dream-like alpha-theta mind states can have enormous benefits. Users report reduced stress, enhanced creativity, peak experiences, and feelings of psychological well-being. Even out-of-body experiences. Dr. Cory, author of a double blind study reports, "Daily usage seems to have a profound effect on the mental functioning of its listener…the Brain Supercharger¨ appears to alter the personality of its users in essentially positive and life-enhancing ways."
Pick a title (12 are included in your Mind Lab) and plug in via stereo headphones. The Brain Supercharger automatically meditates you by synchronizing your brain state into an optimal psycho-physical pattern for deep meditation and expanded awareness. Along with the Brain Supercharger technology each of your 12 CD titles also incorporate a proprietary "mind scripting" technique designed to bombard your subconscious with positive programming. A second (booster) soundtrack for added reinforcement is included on each CD.
This is powerful mind technology guaranteed to not only supercharge your brain, but your life.
BRAIN SUPERCHARGER MIND LAB INCLUDES:
12 Brain Supercharger Titles 1. Ultra Success Conditioning, 2. Ultra Weight Control, 3. Winning Personality/Self-Image, 4. Attract Wealth & Prosperity, 5. Soaring Self-Confidence, 6. Mastering Stress, 7. Unleash Creativity, 8. Super Memory/ Accelerated Learning, 9. Sports Performance, 10. Improve Love Relationships, 11. Super Immunity/Health, 12. Enhanced Psychic Awareness
Mind Scripting Technology – Each Brain Supercharger CD includes 2 soundtracks with Mind scripting technology designed to open a window into the unconscious and implant positive programming.
Dane Spotts is the CEO of PSI TECH. He is also the founder and president of LifeQuest Industries, (formerly Zygon) a venture development group involved in cutting edge mind research projects.
A successful entrepreneur, he started his first business at age 20 and used the profits of his various enterprises to create mind tools. His inventions include the Brain Supercharger technology designed to shift consciousness and reprogram negative self-sabotaging beliefs, the SuperMind / MindQuest mind programming computer, and the Learning Machine®, which incorporates a patented 5-step accelerated learning process using light/sound sensory technology.
Get immediately download Brain Supercharger Mind Lab
Dane Spotts is also the author of Super Brain Power: 28 Minutes to a Supercharged Brain and The Photographic Mind along with dozens of audio programs including: The Secret of Living the Perfect Life, Mind Power Secrets, How to Find Your Mission in Life & The Millionaire's Mind. Several of his programs have been purchased by the Central Intelligence Agency.
In July 2000, when Dane Spotts joined PSI TECH as an executive partner, he and Jonina Dourif merged PSI TECH with its new sister company, Mind Tek Research. Dane Spotts has committed to aggressively oversee the continuity and continued progress of PSI TECH and Technical Remote Viewing.
– Download Sample files "Brain Supercharger Mind Lab"
Course Requirement: Brain Supercharger Mind Lab
Real Value: $40.0000
One time cost: USD17.0000
Frequently Asked Questions For "Brain Supercharger Mind Lab"
How to make payment for "Brain Supercharger Mind Lab" ?
Please add to cart on this page and go to checkout page.

You can also add as many other products as you like and make a one-time payment.
We accept several type of Stripe payments such as Visa, Mastercard, American Express, Discover, Diners Club, Google Pay, Apple Pay and JCB, payments from customers worldwide. Paypal & Bitcoin please contact us.
Is it safe?
100% Secure Checkout Privacy Policy
Encryption of sensitive data and communication.
All card numbers are encrypted at rest with AES-256 and transmitting card numbers runs in a separate hosting environment, and doesn't share or save any info.
How can we deliver you the course?
After you pay for "Brain Supercharger Mind Lab" on our library, please follow the download links in your account page here: |Brain Supercharger Mind Lab |
In some case, the link is broken for any reason, our supporter will renew the download links and notify to your email within a few hours business day. Your patience is appreciated.
How long do I have access to the course?
 How does lifetime access download?
After enrolling, you have unlimited download to this |Brain Supercharger Mind Lab|  for as long as you like – across any and all devices you own.
How to download "Brain Supercharger Mind Lab" ?
Enjoy "Brain Supercharger Mind Lab" in your account page.
Download only one file at a time. Sometimes doing all of the files at once will lead to them all freezing.
Also, please do not attempt to download to a mobile device. These should be saved to a computer and then synced to devices such as phones and tablets.
You can also learn online instead of downloading, but we encourage you to download for better results and viewing quality during your learn. Lastly, download times are much quicker in the mornings, before noon, Pacific time. during download make sure your device is not sleeping off screen.
What is the refund policy "Brain Supercharger Mind Lab"?
We'll Bear The Risk, You'll Take The Results…
Within 30 days of purchased |Brain Supercharger Mind Lab  |, if you don't get anything out of the program, or if your order has any problem, or maybe for some reason, you just don't like the way it is. Please contact us and we will do our best to assist. Thank you for your understanding.
Have More Questions?
Our support staff is the best by far! please do not hesitate to contact us at email: [email protected] and we'll be happy to help!
You want to get "Brain Supercharger Mind Lab" now right?!!!
YES! I'M READY TO ADD TO CART BUTTON ON THIS PAGE NOW !