Fitness Business Summit 2017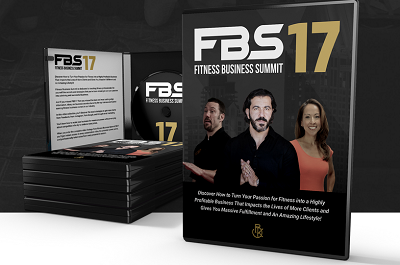 ou May Have Missed Fitness Business Summit, But You Don't Have to Miss Out on The Income Boosting Information, Secrets, and Strategies That Will Take Your Fitness Business to Massive Success!
Get every single client-getting and profit-boosting presentation from Fitness Business Summit 2017
Discover How to Turn Your Passion for Fitness into a Highly Profitable Business That Impacts the Lives of More Clients and Gives You Massive Fulfillment and An Amazing Lifestyle!
Josh Carter Presents at FBS 2016
Fitness Business Summit is dedicated to teaching fitness professionals like yourself the secrets and strategies that you've been missing to turn your passion into a thriving and successful business.
And if you missed FBS17 then you missed the best and most cutting edge information, ideas, and success secrets shared by the top trainers and highest earning fitness business owners in our industry.
Bedros Keuilian Presents at FBS 2016
In this video collection, you'll discover the exact strategies to get more clients from Facebook, from Instagram, from Google, and through email marketing.
You'll learn how to scale your business for massive success without worrying about competition who try to undercut your prices.
FBS 2016 Audience
You'll also learn…
How to hire the best staff
How to price your programs for maximum profits
How to create a competition proof local brand
How to manage your time and productivity like Fortune 100 CEO's
How to grow, open and manage multiple studios and boot camps
How to overcome your entrepreneurial stress and overwhelm and reignite your passion for your business again
When you order the complete video footage from Fitness Business Summit 2017 you'll get instant access to every presentation video, the presenter power points, and professionally taken notes from every presenter's session.
ORDER THE FBS17 VIDEO COLLECTION NOW WHILE IT'S STILL AVAILABLE!
MEET THE FITNESS BUSINESS SUMMIT 2017 PRESENTERS
Bedros Keuilian
WHAT YOU WILL LEARN:
How to give yourself a six-figure paycheck
The immigrant mindset
7 immigrant edge success pillars
ABOUT THE SPEAKER:
Bedros Keuilian is the founder and CEO of Fit Body Boot Camp, host of Fitness Business Summit, and the most sought after coach for fitness pros who want to generate multiple six and seven figures a year. He's best known for helping his clients create businesses that are systematized, easy to scale, and fun.
ELLIOT HULSE
WHAT YOU WILL LEARN:
The Eight Keys to United Strength
How to Achieve Limitless Victory by Uniting Body, Mind, And Mankind
ABOUT THE SPEAKER:
Elliott Hulse is hard to define, but he is mostly recognized by his over 2 million YouTube subscribers for his insightful, entertaining, empowering, and often crude video answers to questions related to everything from how to fix deadlift posture, to how to beat depression through chanting, dancing, and "breathing into your balls".
John Berardi
WHAT YOU WILL LEARN:
A Radical Shift In How You Coach
A Revolution In How You Do Business
ABOUT THE SPEAKER:
John Berardi, PhD, CSCS is a co-founder of Precision Nutrition. He's an advisor to Apple, Equinox, Nike, and Titleist. He has columns on Livestrong.com and The Huffington Post. He was recently selected as one of the 20 smartest fitness professionals in the world and 100 most influential people in fitness.
Chris "Scorpion" Casamassa
WHAT YOU WILL LEARN:
How to Get 3000 Members to Stay, Pay, And Refer With 2 Simple Tricks
Scorpion's Top 2 Secrets for Explosive Fitness Business Success
ABOUT THE SPEAKER:
Chris Casamassa, AKA "Scorpion", is the President of the 14 Red Dragon Karate studios in southern California and has been involved with the company for over 40 years. But for millions of fans around the world, he is known for the role of Scorpion in the hit action film franchise Mortal Kombat.
Martin Rooney
WHAT YOU WILL LEARN:
How To Motivate Your Clients For Maximal Results
Coaching Secrets To Improve Your Training Program
ABOUT THE SPEAKER:
Martin Rooney is an internationally recognized fitness expert, presenter, best-selling author, and the creator of the Training for Warriors system. His TFW program now operates in over 265 facilities worldwide and is helping thousands of people per day to reach their fitness goals.
Jo DeFranco
WHAT YOU WILL LEARN:
Transparency In Marketing And How To Sell Yourself
How I Tripled My Income With ZERO Business Knowledge
ABOUT THE SPEAKER:
Joe DeFranco revolutionized the garage/warehouse gym business by turning his original storage closet into a world-renowned brand. His gym has been voted one of "The Best Gyms in the World" by Men's Health Magazine. Joe's training techniques have been featured on ESPN, Spike TV, and in the NY Times best-seller, The 4-Hour Body.
Craig Ballantyne
WHAT YOU WILL LEARN:
How To Dominate Your Days And Take Back Control Of Your Life
How To Achieve Extraordinary Results In Both Your Personal And Professional Life
How To Turn Your Passion Into Profits
ABOUT THE SPEAKER:
Craig Ballantyne is a productivity & success transformation coach from Toronto, Ontario, Canada, and the author of The Perfect Day Formula: How to Own the Day and Control Your Life. He has been contributing to Men's Health Magazine since 2000 and created the popular home workout program, Turbulence Training, in 2001.
Marc Lebert
WHAT YOU WILL LEARN:
What Is The Biggest "F" Word In The Fitness Industry?
Why Your Clients Are NOT Getting The Results They Want And What To Do About It!
ABOUT THE SPEAKER:
Marc Lebert is a club owner, a black belt, an NLP practitioner, the owner of Lebert Fitness, and a global leader in fitness equipment. Their product, the Lebert EQualizer®, has transformed not only the fitness landscape, but more importantly, how fitness professionals and clubs deliver training to make their clients better.
Get immediately download Fitness Business Summit 2017
John Romaniello
WHAT YOU WILL LEARN:
Write it better than you felt it
Speaking things into existence
The only way to stay immortal is to write
Emphasizing certain words can change the entire meaning of a sentence
The secret to writing and life
ABOUT THE SPEAKER:
John Romaniello is an internationally recognized human. While known primarily as the founder of Roman Fitness Systems, a little-known fact is that he also invented the piano key necktie. Roman is also a bestselling author and angel investor. He enjoys unicorns, sarcasm, and writing about himself in the third person.
Stephanie Joanne
WHAT YOU WILL LEARN:
How She Attacted Millions Of FREE Impressions To Her Brand And Business Leveraging Media Exposure.
How To Land Your Brand In Tv Appearances, Magazine Features, Sponsorships And More!
ABOUT THE SPEAKER:
Stephanie Joanne is known online as The Entrepreneurial Enabler and creator of her signature program Build your Fitness & Health Empire. She's a serial entrepreneur best known for her self-made empire in the fitness and health industry. She has worked with an impressive roster of companies including Nike, VitaCoco, and Adidas.
JR Burgess
WHAT YOU WILL LEARN:
Exercise as medicine; the future of healthcare
Almost all disease is a lifestyle problem
Bridging the gap between medical and fitness
Grow outside of your comfort zone one step at a time
ABOUT THE SPEAKER:
J.R. Burgess is the CEO of Rejuv Medical and MedFit. Six years ago, he partnered with Dr. Joel Baumgartner MD with the purpose to change the direction of the current healthcare crisis. Together they developed a successful medical practice that utilizes medical fitness as medicine to restore health and vitality to their patients.
Mark Fisher
WHAT YOU WILL LEARN:
How to use personal branding to build a multiple seven figure fitness business
Learn how to bring your struggles, weirdness, and uniqueness to your business
Creating your narrative – what's your story?
ABOUT THE SPEAKER:
Mark Fisher is the proud co-owner and Ninja Master of Mark Fisher Fitness. MFF has been named one of Men's Health's "Top 20 Gyms in America," one of Inc. Magazine's 500 fastest growing companies, and Mark has been featured in media outlets like The New York Times, The Wall Street Journal, Forbes, The Huffington Post, and Details among others.
Jason Ferruggia
WHAT YOU WILL LEARN:
Building relationships and improving your communication skills
Communicate clearly and build meaningful relationships
Being aware of your body language and tones
ABOUT THE SPEAKER:
Jay Ferruggia is the host of the Renegade Radio Podcast and an OG of the online fitness industry. Since 1994, Jay has coached or consulted with thousands of clients, ranging from Hollywood stars to professional athletes to Fortune 500 companies. He's been featured in Men's Fitness, Men's Health, Muscle & Fitness, Details, Entrepreneur, CBS, and ESPN.
Get immediately download Fitness Business Summit 2017
Cabel McElderry
WHAT YOU WILL LEARN:
Sales, Marketing, Lead Generation
Operations (Systems And Procedures)
Staff Performance And Client Satisfaction (KPIs And Building Community)
Cashflow Management And Growth
ABOUT THE SPEAKER:
Cabel has been in the fitness biz for over 25 years. He's trained thousands of people, trained and certified hundreds of other trainers, acted as a top executive, been an influencer for the Fit Body brand, produced a certification program that is being used worldwide, and has been a guest speaker across Canada and the United States.
Jason Capital
WHAT YOU WILL LEARN:
The invisible force determining your destiny
How to gain high status
Subcommunicaton secrets of the world's most successful people
Communicating through vocal tonality and body language
Finding your natural charisma
ABOUT THE SPEAKER:
Heralded as the nation's #1 success trainer, Jason Capital was recognized as a Top 100 Entrepreneur by President Obama. Capital has served as coach and consultant to Fortune 500 executives, professional athletes, New York Times best-selling authors, award-winning Hollywood executives, and Ivy-League Leaders inside the emerging tech world.
Rachel Cosgrove
WHAT YOU WILL LEARN:
There Is More Competition Than Ever Before. How Do You Stand Out?
4 Easy Ideas To Implement In Your Business To Guarantee You Never Lose Another Client.
ABOUT THE SPEAKER:
Rachel Cosgrove co-owns Results Fitness, voted one of the top ten gyms in the US by Men's Health Magazine and one of the Best Gyms in the US by Women's Health Magazine and named one of the most profitable gyms by the NFBA. Rachel has authored two best-selling books: The Female Body Breakthrough and Drop Two Sizes.
Jeff Sherman
WHAT YOU WILL LEARN:
The right way to optimize leads, sales, and referrals
8 steps to leveraging each lead and turning them into long term clients that will get you referrals
Measuring your reach – how many eyeballs are you getting to each week?
ABOUT THE SPEAKER:
Jeff Sherman is a highly sought after speaker & consultant in the business development industry who has impacted over 5,000 fitness businesses in over 6 countries. He is the owner of Tech Sweat, Fitness Marketer, Train Aggressive Cross Fit Studio, Fit Clients, and many other resources that are perfect for helping fitness professionals succeed.
Josh Carter
WHAT YOU WILL LEARN:
The best FB ads to run in 2017
How to get lead ads without a landing page
Creating a link that goes directly to your FB messenger
ABOUT THE SPEAKER:
Joshua Carter is a personal trainer and Fit Body Boot Camp owner with over 20 years of experience. He is also the Chief Marketing Officer for FBBC. He has been featured in multiple publications including The Wall Street Journal, The Huffington Post, Shape Magazine, and Men's Fitness and has also been seen on ABC CBS, Spike, HGTV and Showtime
Carlo Bernoni
WHAT YOU WILL LEARN:
3 Critical Facebook Lead Generation Methods
Implementing The 5 Pillars Of Influence In Your Marketing To 10x Your Results
ABOUT THE SPEAKER:
Carlo has been the sales and marketing force behind two successful companies he built from the ground up. Now, he runs Fitness Marketer, an agency that specializes in lead generation for fitness professionals. He has worked with over 1,000 fitness business owners from around the world and helped them grow their brands and get more members while working less.
Get immediately download Fitness Business Summit 2017
Robby Blanchard
WHAT YOU WILL LEARN:
How to use email marketing to automate your CrossFit affiliate business
5 pro tips to use in email marketing
Creating captivating email subject lines
ABOUT THE SPEAKER:
Robby Blanchard is the Owner of CrossFit Reach, one of the most recognizable and profitable CrossFit Affiliates in the nation. In addition to coaching 300 athletes daily, he has helped thousands of CrossFitters through his online training programs. Robby is also a coach and business mentor to over 100 CrossFit Affiliates worldwide, teaching them how to scale their businesses.
Darren Mehling
WHAT YOU WILL LEARN:
Be honest with goals and expectations – do not bullshit your clients
Speak the client's language – they will relate better
Be allergic to mediocrity
Create a bigger purpose for your clients
ABOUT THE SPEAKER:
Darren Mehling, BA, CSCS, has been named one of the top bodybuilding contest prep coaches in the world. Through his online coaching company, FREAK FITNESS, he has helped his international clientele of physique competitors win countless Novice, State/Provincial, National, International, and Professional titles.
Ian Weinberg
WHAT YOU WILL LEARN:
How To Open & Manage More Locations & Have More Free Time
How To Get More Clients, Get Them To Buy More, & Get Them To Stay Longer
ABOUT THE SPEAKER:
In 5 short years, Ian has catapulted himself from couch surfing personal trainer and world traveler to owner and Chief Motivating Officer of 7 (and counting) IanFitness Personal Training and Boot Camp Studios and become Seattle's premier fitness and fat loss expert. He has also established himself as a local fitness celebrity.
Matt Wilber
WHAT YOU WILL LEARN:
The fundamental principles to creating the foundation of a fitness empire
Hire by character and then teach them the skills and grow and develop them
The importance of truly believing in your team
The importance of investing in personal development for yourself and your team
ABOUT THE SPEAKER:
Matt Wilber is the owner of 4 Fit Body Boot Camp locations in west Michigan with an annual revenue in 2016 over 3 million dollars. He currently serves 2,000 clients daily. He has helped his clients lose over 60,000 pounds. He has helped over 70 people lose 50 pounds or more including 5 people who lost over 100 pounds.
Get immediately download Fitness Business Summit 2017
Alisha Lopez
WHAT YOU WILL LEARN:
The Joyful Momprenuer
How I Went From Stressed Out, Sad, Depressed, And Broke To Living A Life Of Joy.
ABOUT THE SPEAKER:
Alisha has a background as a competitive athlete in soccer, cross-country, track & field, cycling and obstacle course racing. She has worked with adults and kids in the health & sports industry for the past two decades. She serves as the Founder & Owner of No Limits Sports and Fitness Academy, and RUT CAMP based in Signal Hill, California.
Daniel & Brittney Woodrum
WHAT YOU WILL LEARN:
How to speak your clients language
5 principles to better communicate with clients, prospects, and your staff
How to make a good first impression in the first 10 seconds
How to apply the 5 love languages to your business
ABOUT THE SPEAKER:
Daniel and Brittney Woodrum are owners of Greenville & Mount Pleasant Fit Body Boot Camp, located in South Carolina. They are both Master Certified Turbulence Trainers, along with Perfect Day Formula Coaches. Daniel and Brittney are business partners with Craig Ballantyne, and credit much of their success to his mentorship over the years.
Charmaine Ironside
WHAT YOU WILL LEARN:
Get Clear On Your Vision
Create A Powerful Morning Ritual
Ditch Negativity
Do Less And Accomplish More
Remember That Your Body Is Your Business Card In The Fitness World (Put It 1st!)
ABOUT THE SPEAKER:
Charmaine owns and operates two successful Fitness studios in Calgary, Canada with her husband, Patrick. She also owns a thriving online coaching business where she helps women overcome challenges with weight, food, and mindset on the road to living their best lives. She is an eternal optimist who lives life to the fullest.
Get immediately download Fitness Business Summit 2017
Steve Weatherford
Celebrity Guest:
Steve Weatherford, NFL Super Bowl champ and former punter for the New York Giants, is nationally recognized for his extensive philanthropic work, and his incredible strength, physique and approach to health and fitness….
ABOUT THE SPEAKER:
Steve Weatherford, NFL Super Bowl champ and former punter for the New York Giants, is recognized for his philanthropic work, incredible physique, and health and fitness work. His outreach focuses on children, health and fitness, and family. Through the Steve Weatherford World Champion Foundation, Weatherford mentors close to 150,000 kids.
Get immediately download Fitness Business Summit 2017
Sale Page: http://archive.is/wCzl1
– Download Sample files "Fitness Business Summit 2017"
Course Requirement: Fitness Business Summit 2017
Real Value: $2497.0000
One time cost: USD142.0000
Frequently Asked Questions For "Fitness Business Summit 2017"
How to make payment for "Fitness Business Summit 2017" ?
Please add to cart on this page and go to checkout page.

You can also add as many other products as you like and make a one-time payment.
We accept several type of Stripe payments such as Visa, Mastercard, American Express, Discover, Diners Club, Google Pay, Apple Pay and JCB, payments from customers worldwide. Paypal & Bitcoin please contact us.
Is it safe?
100% Secure Checkout Privacy Policy
Encryption of sensitive data and communication.
All card numbers are encrypted at rest with AES-256 and transmitting card numbers runs in a separate hosting environment, and doesn't share or save any info.
How can we deliver you the course?
After you pay for "Fitness Business Summit 2017" on our library, please follow the download links in your account page here: |Fitness Business Summit 2017 |
In some case, the link is broken for any reason, our supporter will renew the download links and notify to your email within a few hours business day. Your patience is appreciated.
How long do I have access to the course?
 How does lifetime access download?
After enrolling, you have unlimited download to this |Fitness Business Summit 2017|  for as long as you like – across any and all devices you own.
How to download "Fitness Business Summit 2017" ?
Enjoy "Fitness Business Summit 2017" in your account page.
Download only one file at a time. Sometimes doing all of the files at once will lead to them all freezing.
Also, please do not attempt to download to a mobile device. These should be saved to a computer and then synced to devices such as phones and tablets.
You can also learn online instead of downloading, but we encourage you to download for better results and viewing quality during your learn. Lastly, download times are much quicker in the mornings, before noon, Pacific time. during download make sure your device is not sleeping off screen.
What is the refund policy "Fitness Business Summit 2017"?
We'll Bear The Risk, You'll Take The Results…
Within 30 days of purchased |Fitness Business Summit 2017  |, if you don't get anything out of the program, or if your order has any problem, or maybe for some reason, you just don't like the way it is. Please contact us and we will do our best to assist. Thank you for your understanding.
Have More Questions?
Our support staff is the best by far! please do not hesitate to contact us at email: [email protected] and we'll be happy to help!
You want to get "Fitness Business Summit 2017" now right?!!!
YES! I'M READY TO ADD TO CART BUTTON ON THIS PAGE NOW !