John Overdurf OHC and Rhizomatic Perception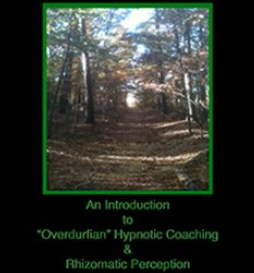 These videos are a dynamic compilation of selected segments from my leading edge eight day Practical Practitioner Training in September 2017. You'll learn a powerful alchemy of principles and processes which together create a innovative approach to hypnotic coaching and…living Life.
This is something new and fresh! While this training was informed by NLP and Hypnosis, it is much more reflective my own clinical experience and research as well as applied Neuroscience, Social Psychology, Embodied Cognition and Rhizomatic Perception. It includes some of the best models I've ever created to date. They have changed how I work with clients, but more importantly how I perceive reality and live Life.
It will feel like you're at a live training. I like to create space for people to truly be themselves to transform in their own way while teaching the "content."  You'll hear it happening all the spontaneity, energy, improvisation and humor.  There are considerable, behind-the-scenes process level interventions as well as unique sequencing of unique exercises.
If you are a Trainer, there is lots here you can glean and model to integrate into your own teaching. You'll benefit from LOTS of new content, innovative and novel change processes, along with informal demos, transformative metaphors, and other hypnotic presenting skills embedded in the teaching.
Here's some of what you'll learn:
The Construction and De-construction of Reality – What are the neurological, linguistic and quantum mechanical principles which dictate how we perceive reality?  Understanding these will deepen your ability to get to the heart of most client issues as well as help you live a happier, healthier Life!
The Five Principles of Rhizomatic Inquiry – Wondering what Rhizomatic Inquiry is? This may be be the best reason to watch and listen to this training!
These principles provide a useful way for conceptualizing what's happening in the brain (especially  in the sub-dominant hemisphere) to more effectively prime and engage the brain for change and transformation.
What are the principles and how can you use them to be an even more effective coach and hypnotherapist… and live a more grounded, creative and expansive Life?   All the principles are brought to life through a series of innovative exercises!  This information is truly transformative and will give you an amazing perspective for how to perceive reality on all levels!
Overdurfian Hypnotic Coaching – All we are is…changing, and this model has evolved quite a bit, even in the last year! It is now consolidated into five field-tested principles.  Lots of new nuances are covered.  How can you use hypnotic principles and the meta pattern of all NLP patterns in a more conversational up-time delivery to create the same effects as formal hypnotic induction? How can you glide on the natural tendencies of the nervous system to create resilient change? Includes a very clear and powerful demonstration
Conversational State Elicitation with lots of demos. This is well-beyond how most people teach and use this.  The feedback I get is the metaphor which sets-up these segments teaches the content all by itself!  This is the true basis of conversational change which can be done any context.  What are the keys to elicitation and anchoring no one tells you?  (No it's it's not the four keys to anchoring.:
Get immediately download here John Overdurf OHC and Rhizomatic Perception
The Synesthesia Splitter 2.0 –  Synesthesias ending in unwanted emotions are usually the reason why people seek coaching.  Often clients may present they have an unwanted feeling, but have a very challenging time identifying what triggers it.  How can you help others disconnect from unwanted feelings from all types of triggers?
I developed technique for how to transform synethesias without finding the trigger.  This is an all-purpose protocol which can be the basis for how to do potent change work for many issues.  It's easy to learn and use.  This segment includes a lucid, instructive demo with obvious impact.
Foreground Background shifting & Quantum Perceptual Positions –  Our perception of fore-ground-background in an context determines how we create meaning, and therefore, our emotional reactions  How can you use one our deepest precognitive perceptual processes to create very rapid change?
Using Quantum Perceptual Positions is easy way to transform relationships all on it's own!  What is the "real fourth position in perceptual positions – straight from the quantum and how can you use it?  (This is not the one NLP trainers talk about!)
Neurological Priming – This is probably the most under-utilized application of neuroscience when it comes to coaching and therapy.  How can you apply the under- used technique of priming to create generative resource states?
Imagine if you could design "brain exercises' which flood a specific area of the brain with blood, a.k.a.,  energy and information.  You'll learn some valuable processes which most clients and course participants experienced as "magical" – and I don't use that term very often!
Beyond Goals 3.0 –  This includes brand, new refinements in this model about why goals don't work and what does. The model is now taught world-wide in the corporate and therapeutic worlds and it's a great way to live your life!   How can you create alignment, naturally, so you are moving toward what you want?   What are simple questions you can ask to resolve conflicts, clearing the way for consistent motivation and staying on purpose?  What are the flaws of the old model and how have they been changed?  (Yes, all we are is changing.)
Embodied Cognition:  Going Below and Beyond Sub-Modalities – This is the new "sub-modalities."  It is, without a doubt one of the most important areas in neuroscience, if you are interested in creating deep and resilient change.  What was Erickson paying attention to that most people don't mention?  And, how can you to get the same results as many regression techniques, but with no regression?  How can you find the "linch pin" of a problem construction quickly?
You'll learn to how crack the code of the unconscious mind.
Creative Reframing – How can you use the problem to create resources for the solution?  This not the standard NLP stuff. This is a novel way to generate reframes with impact—and it's really fun to do!  Even as the coach, you will feel like your brain is growing, when you are generating them for others!  A simple strategy which can be used in pretty much any context, this works just as well for analyzing organizations and systems as much as individuals. I often teach this as a part the "Leader's Mind" seminar.
Constructing and Delivering Language Patterns:  Beyond Words – This is a concise approach to using non-linear or inductive language which many people seem to make way too complicated and airy-fairy.  You'll learn how to create and deliver non-linear and/or inductive language patterns to integrate parts.  What are the absolute best transformative questions to ask and when?  How can you dissolve issues conversationally, using just the basics?
The Mysterious Power of "Not" – How can you use negation to de-potentiate dominant hemispheric functioning – to create "trance" conditions.  These maneuvers and principles will take your language skills to the next level. You'll see and hear powerful examples of the many ways to use negation effectively and then know what to do after that!  When do you use not or not? – and it's not just the obvious, or I wouldn't have included this segment.
The Rhizome Shape-Shifter –  Perhaps my best change technique developed so far.  It can be used with a wide variety of presenting issues and including ones with heavy emotion, trauma and long standing patterns.  How do you harness, acentric, non-linear, multiplicity in a systematic, grounded way?
This isn't just a technique, it is a new paradigm for how we create problems and what the solutions are.  The basic process is easy to learn and so many flexible options most issues don't have a chance!  It has built-in mechanism which creates very generative change.  It is really one-of-a kind, all purpose pattern!
The Full Copyrighted, Course Manual – You'll also receive a pdf. of the full course manual for your personal use.  It not only includes all the processes taught in the live training, but also valuable supplementary material which I don't mention explicitly.  (There was some basic content we thought might be repetitive from other products,  which we edited out of this recording, but you'll still have the information in the manual.)
Full Audio of the Training – In case you want to listen to the training in a more portable way, we've already ripped the audio so you have it separately from the video.
– Download Sample files "John Overdurf OHC and Rhizomatic Perception"
Course Requirement: John Overdurf OHC and Rhizomatic Perception
Real Value: $785.0000
One time cost: USD92.0000
Frequently Asked Questions For "John Overdurf OHC and Rhizomatic Perception"
How to make payment for "John Overdurf OHC and Rhizomatic Perception" ?
Please add to cart on this page and go to checkout page.

You can also add as many other products as you like and make a one-time payment.
We accept several type of Stripe payments such as Visa, Mastercard, American Express, Discover, Diners Club, Google Pay, Apple Pay and JCB, payments from customers worldwide. Paypal & Bitcoin please contact us.
Is it safe?
100% Secure Checkout Privacy Policy
Encryption of sensitive data and communication.
All card numbers are encrypted at rest with AES-256 and transmitting card numbers runs in a separate hosting environment, and doesn't share or save any info.
How can we deliver you the course?
How long do I have access to the course?
How to download "John Overdurf OHC and Rhizomatic Perception" ?
Enjoy "John Overdurf OHC and Rhizomatic Perception" in your account page.
Download only one file at a time. Sometimes doing all of the files at once will lead to them all freezing.
Also, please do not attempt to download to a mobile device. These should be saved to a computer and then synced to devices such as phones and tablets.
You can also learn online instead of downloading, but we encourage you to download for better results and viewing quality during your learn. Lastly, download times are much quicker in the mornings, before noon, Pacific time. during download make sure your device is not sleeping off screen.
What is the refund policy "John Overdurf OHC and Rhizomatic Perception"?
We'll Bear The Risk, You'll Take The Results…
Within 30 days of purchased |John Overdurf OHC and Rhizomatic Perception  |, if you don't get anything out of the program, or if your order has any problem, or maybe for some reason, you just don't like the way it is. Please contact us and we will do our best to assist. Thank you for your understanding.
Have More Questions?
Our support staff is the best by far! please do not hesitate to contact us at email: [email protected] and we'll be happy to help!
You want to get "John Overdurf OHC and Rhizomatic Perception" now right?!!!
YES! I'M READY TO ADD TO CART BUTTON ON THIS PAGE NOW !