OrderFlows Trader Package (Sep 2015)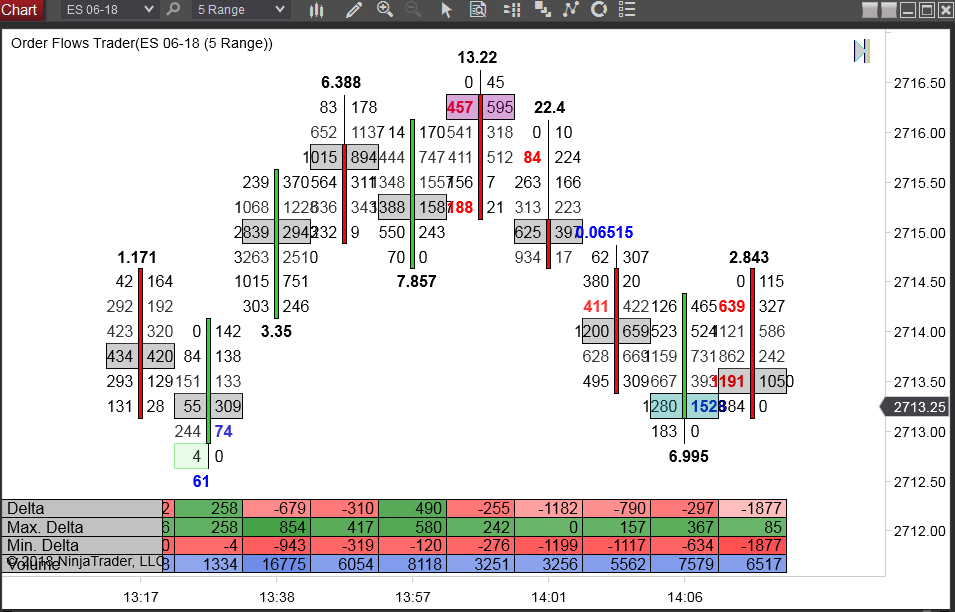 Orderflows software runs on the NinjaTrader platform and combines order flow with charting in a dynamic, real-time way that allows the trader to view the market's evolving and constantly changing state. Its primary benefit rests in its unique ability to see clearly who is in control of the market based on market generated information as it happens.
If you have ever sat and watched the market trade for an extended period of time you start to see how orders are filled in the market and their impact on market direction. There are aggressive traders and there are passive traders. When you know how to tell the difference between the two types, then you can understand the direction of the market.
Complicated charts cluttered up all kinds of indicators might help you forecast the market. But how is that going to help you when the market changes on you? The truth is that technical indicators do not reflect the changes in the market quickly enough. They lag behind the market just enough to cause problems.
The problem for many losing traders is they are relying on price based indicators to predict what the market is going to do. When you look at their screen it is littered with moving averages, MACD, RSI, stochastics, etc. These indicators are all correlated and don't add any new insight into what is driving the market. They are only looking at price and massaging it into another number.
Orderflows software cleans up your charts so you can make clear trading decisions.
Traders place way too much emphasis on finding the absolute "perfect" way to trade. Always analysing, always thinking, and never trading. Traders who make this mistake find themselves drowning in a sea of data. They are victims of "Paralysis by Analysis." No trading decisions can be made because there is just too much information to make a decision on.
The key elements of Orderflows software are traded price, traded bid volume, traded ask volume over a range, volume or time period. When these elements are displayed in a chart, traders will be able to identify the market's areas of strength and weakness. Every market moves up or down based on the interaction between supply and demand. Traditional charting techniques or analysis do not accurately allow you to analyse, understand and interpret the fighting forces of supply and demand. Orderflows allow you to dissect the supply and demand balance in real time as it is happening. You will understand which side is in control and be prepared to respond when it changes.
Orderflows is not a trading system by itself. Rather software that allows the trader to see what is happening in the market in real-time giving an x-ray view into the market so the trader can see what exactly is happening as it happens. Once a trader understands what is happening in the present, the trader is able to make better decisions about what might happen in the future.
The real power of Orderflows is that it identifies "hidden" trade locations that can't be seen using traditional charting techniques. We built our own tools in order to process the order flow as it happens to help find the hidden trade opportunities within a bar. Nothing is more visual and reflects true market sentiment better than the Orderflows chart.
Orderflows software identifies key price areas where low risk entry opportunities exist in the market as they happen. It is simple. The setups are not ambiguous. There is no confusion and no other way to interpret the setup. Jump in and jump out with a profit. We try to keep things simple so they are easy to see. Some order flow software charting programs
Trapped buyers and sellers – If you have ever bought the high of a move you have been trapped in the market and you have to get out with a loss. You know the feeling, all traders have been there. You found the perfect set up only to enter the market and immediately the market moved against you and you were never in the money on your position. It was a loss from the start. These types of traps happen all the time. Orderflows has created the trapped traders indicator to highlight on the chart where traders are trapped.
Last buyer/seller – Markets turn when the last buyer has bought at a high or when the last seller has sold at a low. With traditional bar charts you only see the low of the bar or the high of the bar. You cannot judge the internal buying or selling that has been apparent inside the bar. Orderflows has created the small print and single print indicator to highlight on the chart where their activities are.
 Download immediately OrderFlows Trader Package (Sep 2015) now
Big buyer / seller – There are players in the market who are so big that their actions can determine if a trend stops or starts. These large institutions know market has moved out of supply and demand balance and act accordingly. The beauty of order flow analysis is that their actions can be seen in the analysis of volume. Orderflows has created the big number indicator to highlight on the chart where their activities are.
Imbalance support and resistance – Aggressive buyers and sellers leave their mark on the market. Their levels of activity often become low risk trade entries when retested. When I say low risk, I am talking like 1, 2 or 3 ticks risk with profit potentials over 10x the risk. Orderflows has created the stacked imbalance levels indicator to highlight on the chart exactly where these low risk entries are.
The real power of these indicators is the stop placements. You can have stops with just a few ticks risk, and take profit levels a few points away.
You can't buy success. Trading is like any other business. You must have the right tools and right education and learn to make decisions. You cannot simply buy trading software and expect that is all you need to be successful. You must take the time to learn to trade. Learn direct from a professional with active market experience spanning three decades.
This software and education is the result and culmination of three decades of trading and watching the markets. This is a complete trading setup that you can begin to use in your own trading immediately. I will show you how easy it can be with this 5 minute step by step video tutorial.
1) These are not secrets. These are methods that have been used by institutional traders for decades. It is not until recently that technology has enabled retail traders the ability to really delve into and analyse the volume traded on the bid and offer. Order flow enables you to make trading decisions based on market generated information. It has just never really been explained.
2) There are many markets traded around the world and their size is enormous. Many people can trade the same commodity without decreasing the opportunity. Often these setups are created by institutional players, so the market can handle the size.
3) Ever since I started in the futures business I had been blessed over the years by working with some of the largest hedge fund traders, bank traders, CTAs and private investors. They have helped me personally grow as a trader. I am at a point now where I want to give back to the trading community.
Focusing on order flow changes everything! It is a better way of trading than the popular systems of indicators and messy indecipherable charts. Nothing could be simpler. No need for all those cluttered charts. Stop using charts cluttered with indicators. They are not helping you. They are cluttering up your decision-making process. They don't even give you current market conditions.
With Orderflows software you are tracking trades how they are traded in the market, price by price, on the bid or on the offer. You can go blind or at least dizzy looking at your screen all day long trying to find setups to trade. I do not propose you follow every lot traded as it enters the market. Let the software do the work and give you a heads up when a setup presents itself.
Institutional traders make their money by being on the right side of the market. They trade for banks, large corporations, hedge funds and governments. These traders make their trading decisions without relying on indicators and cluttered charts. They have a view on the market and get in. The tricky part for institutional traders is getting in without showing the world they are getting in or getting out of the market without everyone noticing. It is not easy for them because of the size of their position. Their orders can take minutes, hours and even days to complete. Institutional orders have an effect on the market and it can be seen in the order flow.
Trading does not have to be complicated; you do not need to be a mathematical genius with a 200+ IQ to be a successful trader, but you do need some special knowledge and that's what I'm going to give you.
If you are seeking a deeper, more profound level of understanding the markets and the structure behind them, here's my special offer.
Get OrderFlows Trader Package, (Sep 2015) on Tradersoffer.com
What Will You Get With Orderflows Software Trading Package?
Custom Orderflows Charting Software & Indicators – OrderFlowsTrader software that generates the order flow charts on Ninjatrader. Our special indicators are already programmed into the OrderFlowsTrader software so you are ready to go. These are the same indicators you see in our charts and that we use in our live trading.
Custom Orderflows Chart Template – We have included quick-start chart templates to get you up and running quickly and easily. If you want your screen to look just like ours, then using the template is the way to go. Just import the template and load it when you open a chart. It doesn't get any easier than that.
Orderflows Guide To Trading Order Flow – A 150 page guide that has all the information, all of the techniques, all of the tips, and all of the strategies you need to trade order flow successfully.
Orderflows Quick Start Tutorials – Get up and running in the fastest amount of time possible without any of the complications.
Orderflows Trading/Education Room – Get one month access to the Orderflows Trading/Education room to watch, learn and ask questions in a real time environment.
The price our of software and training is reasonably priced at only $1250
You aren't going to become a successful trader by trial and error. It's almost impossible to learn that way, unless you want to have a very expensive education. You may already be aware of that, having learned the hard way.
There is just too much involved for trial and error to work. You need something that gives you an edge over the rest of the traders out there. Trying to "figure it out on the fly" is too risky. It's unlikely that you'll succeed if you have to keep reinventing the wheel. And there is no way to succeed if every lesson learned from trial and error costs more of your trading capital.
You need to learn how to trade based your understanding of the market, not because one squiggly line crossed another squiggly line. Become a trader, not a trade taker.
You could pay $5,000 or more to attend a top trading seminar, buy their software and you still won't learn what I am going to teach you!
Many years ago, I once went to a $3000 high level, super advanced seminar put on by a 25 year trading veteran and I came away with one tip and a software package to use it with – the third wave in a move tends to be the largest…really, that was it! For $3000 dollars!
The Orderflows software alone is worth thousands of dollars based on the information it generates. Similar software packages without our custom indicators sell for over $3500, just do a search on google for "order flow software" and see what comes up. Our software and education package is priced at a fraction of what others charge because selling software is not our main business, trading is. With the money you save you can easily open a trading account and make money with our setups or would you rather spend $3500 and find out that order flow trading is not for you?
With the Orderflows software you will be enlightened with what you see on the charts and will use it every trading day to make profitable trading decisions.
The Orderflows education package will teach any level of trader the ins and outs of Orderflows trading. I have combined order flow theories with real life trading examples. You will learn to understand, read and trade the Orderflows chart. The Orderflows trading manual is geared specifically towards real life trading and earning money from the market.
Once you understand and can read the market with the Orderflows charts, you will have insight into the market that not even 1 in 1,000 traders have or even look at. Just watching the how the market develops with Orderflows charts will give you an amazingly accurate feel for the market.
You will learn to analyse the market from the moment you sit down at your computer and have a series of trading strategies in hand to take advantage of the various trading opportunities as they appear in the market during the trading session. My trade setups will not be found in any books or websites simply because they are the result of many years of trading experiences. You will learn to trade based on skill and market understanding while applying sound money management. No more surprises. No more guessing.
There are a lot of programs and software out there and most of them don't teach you how to understand the market. There are many vendors out there selling systems based on indicators to make trades. You know what I mean – buy when the bar is blue and sell when it is red regardless of what else is happening.
You don't have to pay $1000, $2000 or thousands more for a trading course and software. That just does not make any sense – be smart and save your money for your trading account.
But really? Should you be able to obtain the necessary information and software to be a successful trader for free? I have done a lot of research into the available software packages for order flow footprint charts. Some cost as much as $5,000! Others cost just a couple of thousand. That is just absurd. There is no correlation between what trading software costs to its effectiveness and profitability.
We built our own tools in order to process the order flow as it happens to help find the hidden trade opportunities within a bar. Nothing is more visual and reflects true market sentiment better than the order flow chart. You can tell in an instant who is more forceful in the market, buyers or sellers.
Trading isn't rocket science, but it does take a bit of work. If you are interested in learning but not sure if you want to buy, sign up for my email list below to catch updates on what I am working on as well as market updates and recaps.
Here's What You'll Get in OrderFlows Trader Package (Sep 2015)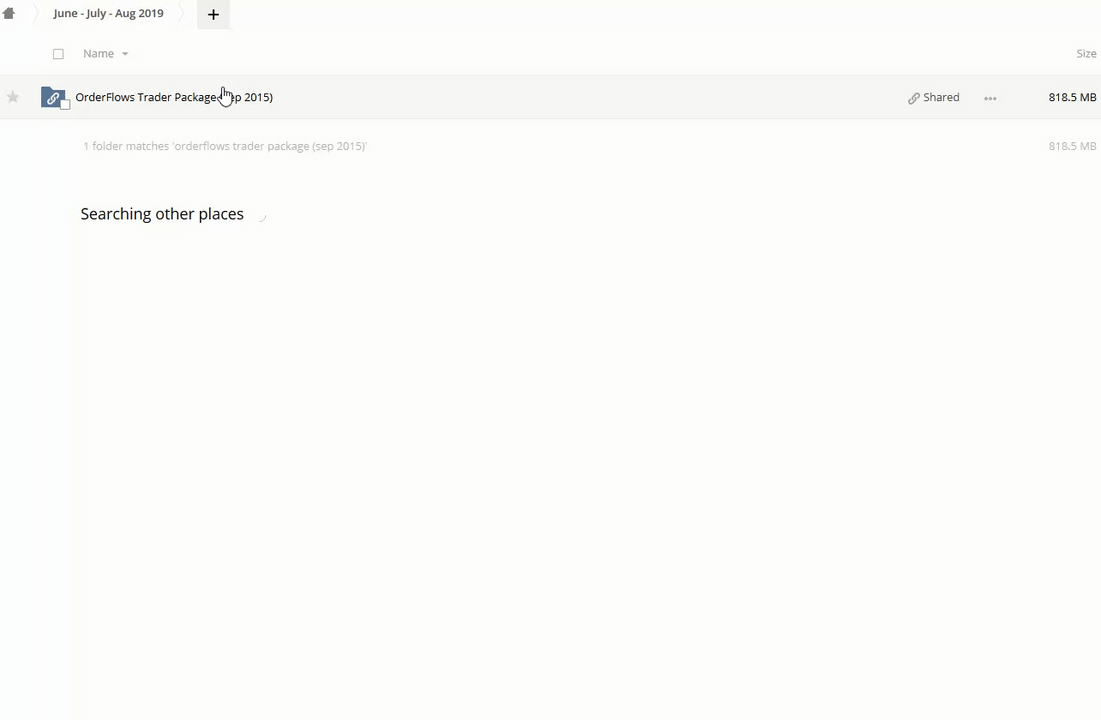 – Download Sample files "OrderFlows Trader Package (Sep 2015)"
Course Requirement: OrderFlows Trader Package (Sep 2015)
Real Value: $750.0000
One time cost: USD149.0000
Frequently Asked Questions For "OrderFlows Trader Package (Sep 2015)"
How to make payment for "OrderFlows Trader Package (Sep 2015)" ?
Please add to cart on this page and go to checkout page.

You can also add as many other products as you like and make a one-time payment.
We accept several type of Stripe payments such as Visa, Mastercard, American Express, Discover, Diners Club, Google Pay, Apple Pay and JCB, payments from customers worldwide. Paypal & Bitcoin please contact us.
Is it safe?
100% Secure Checkout Privacy Policy
Encryption of sensitive data and communication.
All card numbers are encrypted at rest with AES-256 and transmitting card numbers runs in a separate hosting environment, and doesn't share or save any info.
How can we deliver you the course?
How long do I have access to the course?
 How does lifetime access download?
After enrolling, you have unlimited download to this |OrderFlows Trader Package (Sep 2015)|  for as long as you like – across any and all devices you own.
How to download "OrderFlows Trader Package (Sep 2015)" ?
Enjoy "OrderFlows Trader Package (Sep 2015)" in your account page.
Download only one file at a time. Sometimes doing all of the files at once will lead to them all freezing.
Also, please do not attempt to download to a mobile device. These should be saved to a computer and then synced to devices such as phones and tablets.
You can also learn online instead of downloading, but we encourage you to download for better results and viewing quality during your learn. Lastly, download times are much quicker in the mornings, before noon, Pacific time. during download make sure your device is not sleeping off screen.
What is the refund policy "OrderFlows Trader Package (Sep 2015)"?
We'll Bear The Risk, You'll Take The Results…
Within 30 days of purchased |OrderFlows Trader Package (Sep 2015)  |, if you don't get anything out of the program, or if your order has any problem, or maybe for some reason, you just don't like the way it is. Please contact us and we will do our best to assist. Thank you for your understanding.
Have More Questions?
Our support staff is the best by far! please do not hesitate to contact us at email: [email protected] and we'll be happy to help!
You want to get "OrderFlows Trader Package (Sep 2015)" now right?!!!
YES! I'M READY TO ADD TO CART BUTTON ON THIS PAGE NOW !