Richard Osterlind Eerie Vol 1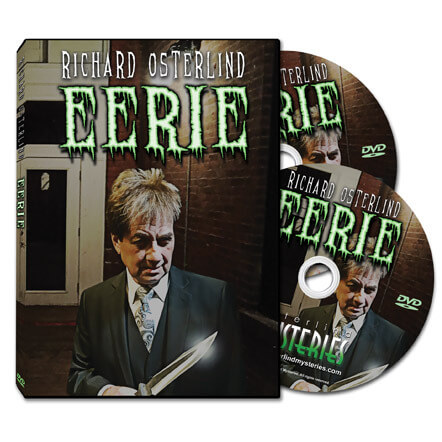 Don't you love it when your audiences' mouths drop open in astonishment! Isn't it wonderful when they think you are almost "spooky"?
In this two-DVD set, you'll see Richard Osterlind take mentalism one step further! Using props like crystal balls, pendulums, candles, spirit slates, and more, Richard has created a number of new effects that go just a little further! Besides being impossible looking, they are all…well…eerie!
Almost everything utilizes props you probably already own or ones you can easily make yourself. Many are impromptu and you can do them anywhere. The effects run the gamut from psychokinesis to thought projection, mind reading, spirit writing, and even time travel! There isn't a single routine that requires great skill or is beyond your ability to perform it. And, each one is designed to leave your audience breathless!
Any of these effects could have been sold separately for the entire price of this set! You get over 15 great routines as well as a lesson in advanced mentalism and presentation. As always, Richard not only shows you how to make your performance believable, but gives many alternate ways to present these effects and hints for great stagecraft!
You will marvel at how Richard can turn a well-known principle around on its ear to create incredible mentalism. You will also see how he can take a theme and build on it to make a totally professional presentation. With the material on these DVDs, you could build a number of separate acts!
If you are ready to have people step back when you walk by for fear of your powers – you are ready for Eerie!
Effects include:
Psychokinesis Act
A complete act featuring spoons, coins, keys, watches, and even a padlock. Everything moves, bends or breaks! This is 15-minute act that takes psychokinesis to new heights!
Crystal Ball Routine
You won't believe the look of astonishment in the lady's eyes when she sees a "vision" in the crystal ball that even she can't explain! An entirely new gimmick makes this possible.
Spirit Slate Routine
A long forgotten classic that leaves the audience speechless. In addition to the surprise ending, Richard shows a simple-to-make device for doing a perfect Add-A-Number routine!
Jumbo Poker Routine
You never lose regardless of what cards a spectator chooses and how much freedom you give him! Richard's brilliant routine based on a classic effect that can be done anytime, anywhere!
Original Q & A Act
The most direct, easiest-to-do Q & A Act ever invented. Even if you have never done Q & A before, you will be able to do this one! There are no moves in this perfect routine!
Blindfold Balloon Murder
If you wondered what the large knife on the DVD cover was for, this is the reason! It is the famous Balloon Murder routine Richard devised for use with his Stainless Steel Blindfold over 25 years ago!
Phantom Knife and Hank
For the first time, see how incredible the Phantom Hank and Knife routine looks! With the new Swiss Army knife, the ending looks totally impossible!
Card Projection
A super clean, straight-forward effect that is staggering! What is even more astounding is the secret which may be the best way ever to use a favorite prop! This is priceless!
Pendulum Routine
A fabulous new idea to make the PATEO force even better! The spectator makes almost all the choices using a pendulum to guide her! It looks spooky and even fools magicians!
ESP Expanded
The classic routine with the new ending! You will see why this slight addition to the Annemann routine now makes the effect a showstopper!
Candle Living and Dead
This looks so eerie! A candle determines what name is still alive by refusing to be extinguished! Besides looking totally impossible, the performance makes this the perfect stage visual! You will love it!
Classic Epic Routine
If you thought Richard's routine on Live…Without a Net! was good, wait until you see this! Never before has this classic prop been so well used. A spectator even watches you write the last prediction! Richard also divulges his pet way to use his classic Change of Mind!
Georgia Magnet / Body Suspension
For the first time, see these routines actually demonstrated! Richard becomes an immovable object resisting even three strong men! You can do this anywhere and anytime! Also performed and explained is another classic routine where a spectator is suspended between two chairs with someone standing on him! This looks totally unbelievable!
Time Travel Pegasus
A perfect closer for any act! It's an original book test that suddenly becomes a demonstration of true time travel! It leaves the audience speechless!
What people are saying
I received the Eerie DVD the other day and all I can say is WOW! You have done it again and knocked it out of the park with these DVD's. I do a lot of bizarre magic and I love the weird and eerie twist you have put on these effects. This is real-world material that can play in front of real world audiences and I love it. The material is strong commercial magic that is within the realm of any performer. Again, like with all of your work, I can't say enough great things about it. This is a must have for any mentalist. Keep up the great work! -A. Jon Deery
I watched Eerie today and loved what I saw. The discs are full of routines that each have a clever and original twist and always present good new ideas. I love the idea of using candles for a Living and Dead Test and of having a spectator use a pendulum to select an object.  My favorite routine was the Spirit Slates which you combined with a number prediction that seemed wrong at first, but was revealed to be not only correct but also precognitive. Eerie has great material that is well thought-out and easy for almost anyone to insert into a show. -Jim Kleefeld
I just had the pleasure of viewing Eerie tonight. I watched it with someone who thought we were watching a special on television. The other person that watched was stunned. Literally speechless in several instances. They turned to me several times and said "Is this real? What is this?!" This is good, good stuff! -Brandon Neff
Having watched the set, I have to say it is my favorite DVD set of the year. The performance was a live performance and does not appear to have been done in multiple takes, so you get real audience reactions. Each routine has a new twist in methodology, routining, or presentation with makes it a learning experience both in performance and explanation. The instruction DVD was wonderful. Not only were the routines dissected and explained, but performance tips and additional bits of business were given. For me, this is my favorite video release of Richard's in years, and I unreservedly recommend this DVD set. -Tony Iacoviello
With Eerie, Richard has hit yet another home run! Sometimes, people say that you are "spooky." Well, in this set, Richard balances on the line between regular mentalism and stuff that is, well…eerie! There are 14 routines/effects and every one is good. Some you have seen before and probably have done, but Richard has put a new twist on things (in some cases, the back story and in other cases an updated method.) A good example of the back story is the Jumbo Poker Deal. I know, how can a poker deal be eerie? Listen and you will see. All effects can be played with as much eeriness as Richard gives you or you may choose to take it a step farther. It's your choice. I highly recommend Eerie! -Tony Razzano
I have watched both DVDs in the Eerie set, and they are great. I don't know what your standard act is, but from what I saw on Eerie I think you should consider adding Time Travel Pegasus, Candle Living & Dead, and the Crystal Ball effect to it. (I know, I am biased, but they are" killer.") -Louis Del Monte
I really enjoyed Richard Osterlind's new DVD set, Eerie. This one is a bit different as Richard has presents the routines around an spooky theme. It starts off with a great Psychokinesis Act, with some different approaches. I love the Crystal Ball routine, don't want to give it away but it's very cool, it will look totally impossible to an audience. There is a fun jumbo poker routine where spectator has a choice of cards to keep and give away; the performer always has the winning hand. Then there is a great add-a-number routine using slates. If you're looking for a Q&A Routine look no further than this set of DVDs, a cool pendulum routine, a living and dead test using candles that has a great presentation and theatrical stage visuals. Then there is a nice spin on the Classic Epic board. As far as I'm concerned Richard owns the Epic Board as I've never seen anyone perform a more deceptive Epic routine than Richard's. Also Georgia Magnet and Body Suspension – these are routines you don't see often let alone explained in great detail. All the material is interesting and different from Richard's other works. If you're looking for Eerie stuff, you came to the right place. I will be totally adapting some of this fresh, different and interesting material. Bravo Richard and thank you! -Renzo
Get Richard Osterlind Eerie Vol 1 download right now!
Read more: click here!
– Download Sample files "Richard Osterlind Eerie Vol 1"
Course Requirement: Richard Osterlind Eerie Vol 1
Real Value: $49.9500
One time cost: USD17.0000
Frequently Asked Questions For "Richard Osterlind Eerie Vol 1"
How to make payment for "Richard Osterlind Eerie Vol 1" ?
Please add to cart on this page and go to checkout page.

You can also add as many other products as you like and make a one-time payment.
We accept several type of Stripe payments such as Visa, Mastercard, American Express, Discover, Diners Club, Google Pay, Apple Pay and JCB, payments from customers worldwide. Paypal & Bitcoin please contact us.
Is it safe?
100% Secure Checkout Privacy Policy
Encryption of sensitive data and communication.
All card numbers are encrypted at rest with AES-256 and transmitting card numbers runs in a separate hosting environment, and doesn't share or save any info.
How can we deliver you the course?
After you pay for "Richard Osterlind Eerie Vol 1" on our library, please follow the download links in your account page here: |Richard Osterlind Eerie Vol 1 |
In some case, the link is broken for any reason, our supporter will renew the download links and notify to your email within a few hours business day. Your patience is appreciated.
How long do I have access to the course?
 How does lifetime access download?
After enrolling, you have unlimited download to this |Richard Osterlind Eerie Vol 1|  for as long as you like – across any and all devices you own.
How to download "Richard Osterlind Eerie Vol 1" ?
Enjoy "Richard Osterlind Eerie Vol 1" in your account page.
Download only one file at a time. Sometimes doing all of the files at once will lead to them all freezing.
Also, please do not attempt to download to a mobile device. These should be saved to a computer and then synced to devices such as phones and tablets.
You can also learn online instead of downloading, but we encourage you to download for better results and viewing quality during your learn. Lastly, download times are much quicker in the mornings, before noon, Pacific time. during download make sure your device is not sleeping off screen.
What is the refund policy "Richard Osterlind Eerie Vol 1"?
We'll Bear The Risk, You'll Take The Results…
Within 30 days of purchased |Richard Osterlind Eerie Vol 1  |, if you don't get anything out of the program, or if your order has any problem, or maybe for some reason, you just don't like the way it is. Please contact us and we will do our best to assist. Thank you for your understanding.
Have More Questions?
Our support staff is the best by far! please do not hesitate to contact us at email: [email protected] and we'll be happy to help!
You want to get "Richard Osterlind Eerie Vol 1" now right?!!!
YES! I'M READY TO ADD TO CART BUTTON ON THIS PAGE NOW !