Rosetta Stone Spanish (Spain) Levels 1-5

Rosetta Stone Spanish / Spain Levels 1-5 (Version 4 / Windows / Download) uses visuals and sounds to train you to speak and think, as well as read and write in Spanish, as spoken in Spain. Instead of teaching you to memorize and repeat, it leads you to recognize patterns, speak intuitively, and be confident in your pronunciations. From the first lesson, you'll hear and use only Spanish. Your native language won't play a part at all, and you'll be engaged actively. The teaching sequence places a higher focus on speech and thought, but it also effectively balances reading and writing.
Levels 1-5 feature 250 hours of instructional content, 50 hours in each level, that will enable you to fully express your ideas and opinions and master the conversational skills to move abroad. Level 1 teaches basic conversational skills, such as greetings, introductions, and simple questions and answers. Level 2 focuses on getting around, making and receiving phone calls, and making reservations. Level 3 presents scenarios in health and well-being, celebratory events, and making measurements. You'll learn to ask for a band-aid, interact at birthday parties, purchase the right proportions at a deli, and the like. Level 4 teaches how to order at restaurants, arrange for repairs and maintenance, and discuss personal well-being conditions, like saying that you're tired and explaining why. Level 5 centers on discussing work, the arts and entertainment, and school and studies. You'll start speaking in the very first lesson. In each one you'll be introduced to situations where you'll learn to understand the relevant language skills.
Included with your purchase is a 3-month free trial of Rosetta Stone's TOTALe mobile app service, which you can use to progress through the 250 hours of lessons on a phone or tablet. As you find most convenient for you, you can switch between your home computer and TOTALe in completing the lessons. TOTALe additionally offers interactive learning games and live online sessions with other learners on your level.
Your purchase provides you with an instant download and activation of Levels 1, 2, 3, 4, and 5, and TOTALe. Levels 1-5 can be installed on up to two computers, not limited to one location, for up to five usernames, and the TOTALe trial is for one user. Users must be at least 13 years of age to use this package.
How it Works
Get immediately download Rosetta Stone Spanish (Spain) Levels 1-5
Spanish is the Only Language You'll Hear and Use
From lesson one, Spanish is the only language you'll hear and use. Your native language will not be there to help, because without it you'll learn actively, which will make you more successful. You'll be introduced to new words and concepts in a sequence carefully designed to accelerate your learning process. You'll be taught sights, sounds, words, sentences, and conversations. As you progress, you'll use what you've learned to understand new vocabulary.
Discover Patterns Instead of Memorizing
The secret to success with Rosetta Stone is that instead of memorizing rules, you're led to discovering patterns, and to arriving at the right answer intuitively. And at just the right intervals, you'll learn new material and revisit some you've already covered. All this will help you retain what you learn and begin thinking in your new language.
Visual and Audio Feedback to Keep You on Track
Instant feedback and guidance features, such as speech recognition technology, keep you on track the entire course. Visual and audio feedback reinforces correct answers and calls attention to incorrect ones.
Speech Recognition Evaluation
Every time you speak, speech recognition technology identifies what you're saying, evaluates your pronunciation, and gives you a real-time assessment. This results in teaching you to speak confidently. The technology identifies the words you're pronouncing while you're speaking them, verifies whether or not the words or phrases are correct, and then it compares your pronunciation to a native speaker model to see how you did. Your voice is compared to 100 native speaker samples per second to give you the most accurate feedback possible. The goal is to give you the confidence that you're using the right words and phrases at the right time and pronouncing them correctly.
Aiming at Perfection (Analytical Assessment)
If you're aiming at perfection, for each speech experience you can view your speech waveform, pitch contour, and spectrogram side by side with a native speaker's, and you can take a look at how your pronunciation has improved with each try.
 Here's What You'll Get in Rosetta Stone Spanish (Spain) Levels 1-5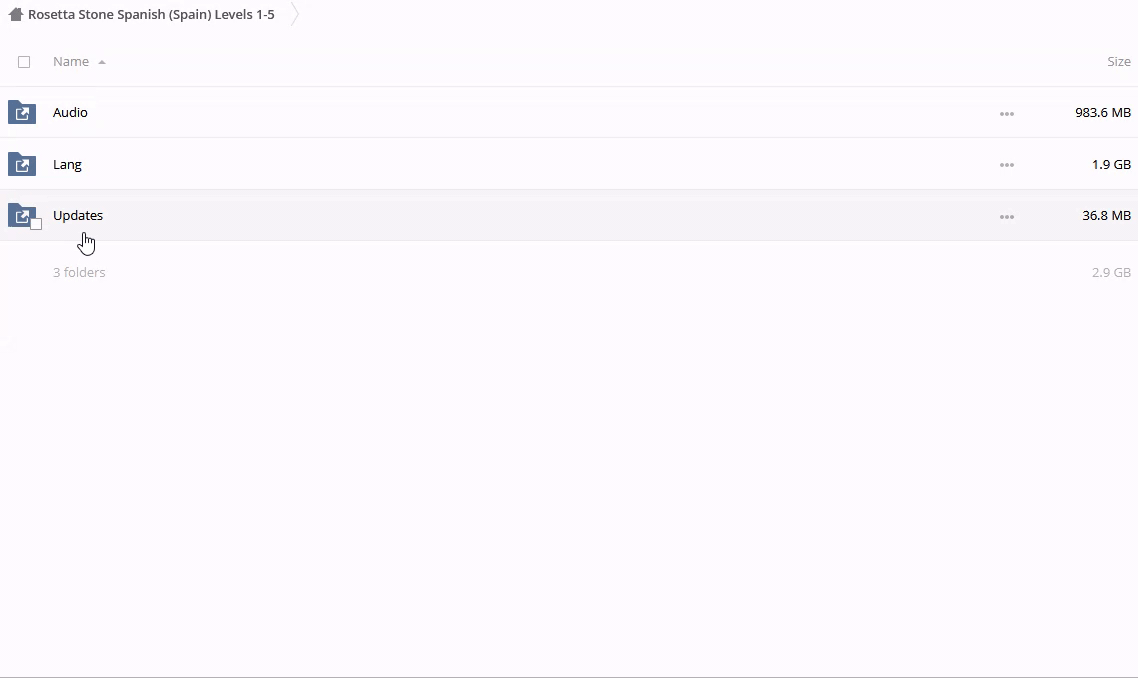 – Download Sample files "Rosetta Stone Spanish (Spain) Levels 1-5"
Course Requirement: Rosetta Stone Spanish (Spain) Levels 1-5
Real Value: $27.0000
One time cost: USD10.0000
Frequently Asked Questions For "Rosetta Stone Spanish (Spain) Levels 1-5"
How to make payment for "Rosetta Stone Spanish (Spain) Levels 1-5" ?
Please add to cart on this page and go to checkout page.

You can also add as many other products as you like and make a one-time payment.
We accept several type of Stripe payments such as Visa, Mastercard, American Express, Discover, Diners Club, Google Pay, Apple Pay and JCB, payments from customers worldwide. Paypal & Bitcoin please contact us.
Is it safe?
100% Secure Checkout Privacy Policy
Encryption of sensitive data and communication.
All card numbers are encrypted at rest with AES-256 and transmitting card numbers runs in a separate hosting environment, and doesn't share or save any info.
How can we deliver you the course?
How long do I have access to the course?
How to download "Rosetta Stone Spanish (Spain) Levels 1-5" ?
Enjoy "Rosetta Stone Spanish (Spain) Levels 1-5" in your account page.
Download only one file at a time. Sometimes doing all of the files at once will lead to them all freezing.
Also, please do not attempt to download to a mobile device. These should be saved to a computer and then synced to devices such as phones and tablets.
You can also learn online instead of downloading, but we encourage you to download for better results and viewing quality during your learn. Lastly, download times are much quicker in the mornings, before noon, Pacific time. during download make sure your device is not sleeping off screen.
What is the refund policy "Rosetta Stone Spanish (Spain) Levels 1-5"?
We'll Bear The Risk, You'll Take The Results…
Within 30 days of purchased |Rosetta Stone Spanish (Spain) Levels 1-5  |, if you don't get anything out of the program, or if your order has any problem, or maybe for some reason, you just don't like the way it is. Please contact us and we will do our best to assist. Thank you for your understanding.
Have More Questions?
Our support staff is the best by far! please do not hesitate to contact us at email: [email protected] and we'll be happy to help!
You want to get "Rosetta Stone Spanish (Spain) Levels 1-5" now right?!!!
YES! I'M READY TO ADD TO CART BUTTON ON THIS PAGE NOW !