The Healing Power of Emotion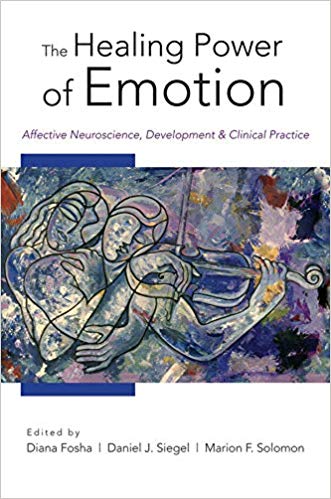 Are you worried you're not handling your clients' emotions correctly?
For centuries, most emotions were viewed as weaknesses, irrational, and something to avoid at all costs. But recent research has proven how emotion can be a powerful tool in shaping our connection to others and motivating us to change. When therapists help clients deepen emotion, they attain better outcomes in therapy.
Too often, however, therapists haven't been trained on how to work with intense emotion in the consulting room and harness it as a therapeutic ally. And because many of us become uncomfortable when clients cry or scream in front of us, we're missing powerful opportunities for deep healing and change.
That's why we've brought together some of the field's leading innovators—Susan Johnson, Jay Efran, Rick Hanson, Diana Fosha, Joan Klagsburn and Ron Potter-Efron—for this online video course on the most powerful ways to make your clients' emotions allies toward healing.
When you enroll in this course, you'll learn:
– How to handle a client's emotions, even when they're unpleasant or out of control
– What to do when a client cries
– How to engage emotional clients in a way that helps them heal
– How to recognize facial expressions as an entry point into emotional healing
– How neuropsychology can help us understand emotion
Lean how emotion can guide your clients toward healing, and get the deep understanding and practical approaches you need to enhance your practice!
What's Included: 6 Great Sessions on Harnessing Emotion's Potential for Healing
Session 1) Harnessing the Power of Emotion in Couples Therapy with Susan Johnson, Ed.D.
Discover how to work more experientially and effectively with couples by learning to:
Get immediately download The Healing Power of Emotion
Distinguish between primary and secondary emotions
Understand attachment styles and use attachment theory as a road map for your couples work
Identify power struggles, soften them, and reestablish felt connection between partners
Encourage vulnerability by incorporating the 3 S's—Slow, Soft, Simple—into your therapeutic style
Use focused empathic reflection to reconnect, repair, and rebuild their bonds
Susan Johnson is one of the developers of Emotionally Focused Therapy (EFT), director of the Ottawa Couple and Family Institute and the International Center for Excellence in EFT.
Click Here for CE Details
Session 2) Bringing the Felt Sense into the Consulting Room with Joan Klagsbrun, Ph.D.
Learn how focusing can bring a new dimension of emotional exploration and effectiveness into your work by:
Mastering the 6 steps of Focusing
Developing clients' capacity for self-acceptance and body awareness
Helping clients find a verbal handle for their nonverbal states
Accessing and recognizing positive emotion
Using focusing to access wisdom and creative intelligence
Joan Klagsbrun is a psychologist in private practice, an adjunct faculty member at Lesley University, and has been teaching Focusing internationally for more than 30 years.
Click Here for CE Details
Session 3) When Your Client Cries: Do's and Don'ts with Jay Efran, Ph.D.
Explore a new two-stage approach to working with tears based on:
Going beyond the steam-kettle theory to understand the physiology and psychobiology of tears
Recognizing the connection between tears and parasympathetic recovery
Incorporating techniques that support the function of crying without being intrusive
Focusing on the thoughts and memories that induce tears, not the feelings
Jay Efran is emeritus professor of psychology at Temple University and coauthor of Language, Structure, and Change: Frameworks of Meaning in Psychotherapy and The Tao of Sobriety.
Click Here for CE Details
Session 4) Our Brain's Negativity Bias: Taking in the Good with Rick Hanson, Ph.D.
Learn how to mobilize clients' underutilized resources and fortify their resilience by:
Get immediately download The Healing Power of Emotion
Understanding how evolution biases us toward negative emotion
Teaching clients how to savor positive experiences
Developing methods for turning positive states into traits
Assessing what resources and antidote experiences a client needs
Maximizing brain change through self-directed neuroplasticity
Rick Hanson is a neuropsychologist noted for his explorations of the intersection of psychology, neurology, and Buddhism. He's the author of Buddha's Brain and Hardwiring Happiness.
Click Here for CE Details
Session 5) Healing the Angry Brain with Ron Potter-Efron, Ph.D.
Apply the principles of neuroplasticity with anger problems by:
Understanding the distortions of the angry brain
Teaching clients how to recognize their blame triggers and avoid 'tripping' them
Learning how to help clients create a step-by-step brain change plan
Exploring the effectiveness of tools and approaches such as journaling and group process
Discovering how to get angry clients to sustain their commitment to change
Ron Potter-Efron is a clinical psychotherapist, co-owner of First Things First Counseling and Consulting, and director of its Anger Management Center. He's the author of Angry All the Time and Healing the Angry Brain.
Click Here for CE Details
Session 6) Using Mindfulness to Accept Emotionality with Diana Fosha, Ph.D.
Explore how to use the therapeutic relationship to help bring enhanced vitality and awareness to your clients' feeling states by:
Get immediately download The Healing Power of Emotion
Learning ways to witness and accept emotional processes
Discovering the glimmers of growth in the midst of a trauma narrative
Tracking moment-to-moment shifts in emotional connection through dyadic mindfulness
Deepening the therapeutic alliance through meta-processing
Recognizing emergent transformational experiences in the consulting room
Diana Fosha is the developer of Accelerated Experiential-Dynamic Psychotherapy (AEDP) and director of the AEDP Institute. She's the author of The Transforming Power of Affect: A Model for Accelerated Change.
Get immediately download The Healing Power of Emotion
Sale Page : https://healingemotion.kajabi.com/sp/40014-healing-power-of-emotion-networker
– Download Sample files "The Healing Power of Emotion"
Course Requirement: The Healing Power of Emotion
Real Value: $57.0000
One time cost: USD199.0000
Frequently Asked Questions For "The Healing Power of Emotion"
How to make payment for "The Healing Power of Emotion" ?
Please add to cart on this page and go to checkout page.

You can also add as many other products as you like and make a one-time payment.
We accept several type of Stripe payments such as Visa, Mastercard, American Express, Discover, Diners Club, Google Pay, Apple Pay and JCB, payments from customers worldwide. Paypal & Bitcoin please contact us.
Is it safe?
100% Secure Checkout Privacy Policy
Encryption of sensitive data and communication.
All card numbers are encrypted at rest with AES-256 and transmitting card numbers runs in a separate hosting environment, and doesn't share or save any info.
How can we deliver you the course?
After you pay for "The Healing Power of Emotion" on our library, please follow the download links in your account page here: |The Healing Power of Emotion |
In some case, the link is broken for any reason, our supporter will renew the download links and notify to your email within a few hours business day. Your patience is appreciated.
How long do I have access to the course?
 How does lifetime access download?
After enrolling, you have unlimited download to this |The Healing Power of Emotion|  for as long as you like – across any and all devices you own.
How to download "The Healing Power of Emotion" ?
Enjoy "The Healing Power of Emotion" in your account page.
Download only one file at a time. Sometimes doing all of the files at once will lead to them all freezing.
Also, please do not attempt to download to a mobile device. These should be saved to a computer and then synced to devices such as phones and tablets.
You can also learn online instead of downloading, but we encourage you to download for better results and viewing quality during your learn. Lastly, download times are much quicker in the mornings, before noon, Pacific time. during download make sure your device is not sleeping off screen.
What is the refund policy "The Healing Power of Emotion"?
We'll Bear The Risk, You'll Take The Results…
Within 30 days of purchased |The Healing Power of Emotion  |, if you don't get anything out of the program, or if your order has any problem, or maybe for some reason, you just don't like the way it is. Please contact us and we will do our best to assist. Thank you for your understanding.
Have More Questions?
Our support staff is the best by far! please do not hesitate to contact us at email: [email protected] and we'll be happy to help!
You want to get "The Healing Power of Emotion" now right?!!!
YES! I'M READY TO ADD TO CART BUTTON ON THIS PAGE NOW !