Well-Fed Craft: The Fast Track to Marketing-Writing Mastery

To succeed as a freelance commercial writer you have to promote yourself consistently. That's what I've taught for years in The Well-Fed Writer.
But over the past few years readers have also asked for help on commercial-writing assignments…
"I've never done a capabilities brochure – any advice?"
Or… "How do you structure an effective postcard direct-mail campaign?"
Or… "Any suggestions on creating a good tagline (or name or headline)?"
As a 25-year veteran commercial writer, I've learned—step-by-error-ridden-step, and through copious expense of blood, sweat and tears—the most effective ways to write all the major projects I encountered in the field.
So I decided to start a few small coaching groups where we studied actual samples… These groups have been a huge hit. My students have gotten a ton of value, as you can see from the testimonials below.
Excerpted testimonials from the course that spawned Well-Fed Craft!
"…one of the best investments I've made in my business. I came away with so much material, I'll be revisiting it all for months."
Jeremy McAbee
"…jam-packed with 'Aha!' moments. Right out of the gate, I identified tangible opportunities for improving my commercial writing."
Travis Webster-Booth
"…far more effective and enduring than any 'how-to' copywriting book I've ever read."
Lisa Blaushild
"…Peter makes this whole business seem a little less scary and a LOT less complicated!"
Chris Wilson
"…absolutely one of the best webinars I've ever taken. From the first session, I was able to immediately apply his suggestions to a current project."
Mary Ellen Landolfi
"…specific, practical information. Now I can look at a piece of persuasive writing and see the inherent structure as it builds to a 'call-to-action.'"
Linda Tenney
"If all you did was study the samples and think about the rationale behind the creative choices, you would dramatically improve your writing."
Stacey Morris
But, my group-coaching series are infrequent, and when they do happen, the timing (AND the price) often doesn't work for people. Lately, many of my readers have been asking me for a self-paced option for this training. I put that off because I was really busy. Or my travel schedule kept getting in the way…
But, this past fall, I finally sat down to put it together—to distill everything I've learned about HOW to write these projects into ONE offering, and, in the process, save you 25 years worth of learning. The result is something I'm incredibly proud of:
Introducing:
Well-Fed Craft:
The Fast Track to Marketing-Writing Mastery
The Structure and Strategy Behind Effective Commercial Writing
What's In "Well-Fed Craft"?
Module 1: Introduction & a "Refresher" on Sales/Marketing Fundamentals (audio-only)
Module 2: Introduction to Basic Brochures & Effective Structures for "Case-Building"
Module 3: Larger Brochures and More Examples of Effective Structures for "Case-Building"
Module 4: Postcard Direct Mail and Web Site Messaging/Content
Module 5: Case Studies: Third-Party Success Stories Boost Credibility
Module 6: White Papers: "The King of Content"
Module 7: Getting "Into Their World" and Using Themes Effectively
Module 8: Using Stories (Real or Fictitious) to Legitimize, Humanize and Demonstrate
Module 9: Using Humor to Draw 'Em In & Keep 'Em Reading (+ the "Questions" Strategy)
Module 10: Basics of Sales Letters and Landing Pages
Module 11: A "Short-Copy" Primer: Taglines/Slogans, Naming, Headlines and More
"This is the most useful product I've ever purchased for my fledgling freelance writing business. Seeing how and why you arrange copy in certain ways, how to work with a designer, and how you took a project from planning stages to completed, money-making piece for a client, has given me the confidence that I can produce the content my clients need. It's like having a mentor 24/7. I'm thankful I have Well-Fed Craft in my arsenal."
– Debbie Curtis,
Ithaca, NY
As a freelancer looking to expand into marketing writing, I found Well-Fed Craft very informative. The emphasis on structure and the marketing mindset helped me understand what's important in the field. The modules, based on real-world samples, gave me a taste of the process for many different project types. After completing the program, I feel more confident I can get clients in this field.
– Larry Bernstein,
Fair Lawn, NJ
Thanks for putting together Well-Fed Craft. It's extremely useful, a total bargain, and the perfect addition to your books and materials (and it was great hearing your voice throughout!). Thanks also for The Well-Fed Writer, which remains my template (and inspiration) as I go forward in my second full year as a commercial writer.
– David Whiteside,
St. George, Utah
"As a newbie copywriter, after studying a few courses on persuasive copy and B2B writing, I felt I needed an inside look into how a real pro does what he does. With WFC, I was able to study Peter's professional approach to copywriting and incorporate his years of knowledge into everything I do for my freelance business—starting from my messaging to the actual copy I write. Clients I approached after studying the course were pretty impressed with what I could bring to the table!"
– Christopher Silvestri,
Mirandola, Italy
As someone just getting started as a B2B copywriter, I've found lots of advice about building the business itself, but needed to learn some writing strategies. The models in Well-Fed Craft provided useful examples and ideas I expect to refer to each time I start a new writing project. Thanks for putting it all together in one easy package!
– Theodora S.,
Kearny, AZ
"As someone coming from trade magazine journalism, I found this course to be a great resource. It's packed with practical information giving you a guided tour 'under the bonnet' (hood) of different commercial writing projects."
– Sara Edlington,
United Kingdom
The Well-Fed Writer books and ezine inspired me to quit my job in 2007 and become a full-time commercial writer. I've never looked back. When I learned about Well-Fed Craft, I didn't hesitate. I knew anything with Peter's name on it would be of high quality. Peter possesses a unique ability to provide clear instruction in all of his educational platforms and tools. WFC was a bargain based upon how much information I learned. I recommend it with complete confidence.
– Daniel Casciato,
South Bend, IN
As a fairly experienced copywriter, my focus has always trended towards persuasive direct response sales letters. Your workshop opened my eyes to the hidden value of writing copy that doesn't use persuasive direct response mechanisms (i.e., power words and force communications), but still conveys the right message to the intended audience.
I was looking for mechanics. Your training and explanations gave me belief and weight for that belief. Before, other types of copy were of no interest. Only persuasive direct response copy mattered. Not any longer.
– Woody Quinones,
Sebring, FL
"Well-Fed Craft is an invaluable guide to what makes great copy. Whether complete novice or more experienced, you'll find insights and information to improve your skills. The program covers just about every type of copywriting and the examples of great copy are worth their weight in gold alone. A generously long copywriting Q&A recording is the cherry on the top. Excellent value."
– Edward Beaman,
United Kingdom
An outstanding product. As someone who mostly writes articles for nonprofits, I knew little about other project types. Watching Peter share his process—not easy to do when something comes naturally to you—gave me the confidence that I could take on and be successful with other kinds of writing.
Get immediately download Well-Fed Craft: The Fast Track to Marketing-Writing Mastery
Peter infuses his course with tips about marketing, strategy and writing in general. You feel like he's a good friend, sharing his expertise over a cup of coffee. We learn by studying the best, the masters of their craft, and I think Peter is one of the best.
– Janis Gioia, MAEd,
Brecksville, OH
"Can't recommend Well-Fed Craft highly enough. Such a great reference for demystifying the process, and unbundling nerves when starting a new project. Knowing I have this info in my back pocket has made me even more confident in marketing my business."
– Hannah Glenn,
Los Angeles, CA
Well-Fed Craft helped me understand fully how freelance commercial writing works, with countless examples of real-world projects. It's also a revelation, showcasing the countless opportunities to work for well-paying clients that you might not have known before. Peter has provided a tremendous resource here and has inspired me to pursue a new direction in my copywriting practice. It'll do the same for you.
– Janice Sakata-Schultze,
Golden, CO
"I'm glad I bought Well-Fed Craft. I reviewed several sessions multiple times because each time, I found I'd learn something new (I particularly appreciated your discussion of "The Curse of Knowledge" in Module 1)."
As a beginning B2B copywriter, I found the treatment of each topic as a separate item most useful. It focused my attention on that particular type of writing and the steps involved in completing such assignments."
– Tom McCauley,
Vero Beach, FL
Nearly 5 Info-Rich Hours!
You get over 280 meaty minutes of focused study/dissection/discussion of 74+ commercial writing samples.
We're talking information rich in technique, tactics and strategy. The kind of stuff that'll demonstrably improve your marketing-writing skills, and turn "one-off" clients into regulars.
"I got downright ANGRY when I pored over Well-Fed Craft! This is exactly what I needed in 2003 when starting out. Unfortunately, with nothing like it then, I spent weeks digging up whatever I could find about how to write these marketing pieces—and ended up with maybe 5% of what's in this excellent program. Whether you're new or well on your way to success, do yourself a favor and invest in this goldmine of a resource—from one of the best writers in the business."
– Ed Gandia
B2B copywriter and business-building coach
Who's Well-Fed Craft For?
Anyone—whether newbie or experienced writer—either struggling with how to write "commercial" projects, or wanting to broaden their "tactic arsenal."
Anyone new to the field of marketing writing (so how would you know?)
Anyone who's transitioning from journalism (again, how would you know?)
Anyone who's focused on one or two project types, and wants to diversify their range of project skills. And most importantly…
Anyone who'd like to invest a few days to learn what took me 25 years to assimilate!
Were you intrigued by the Well-Fed Group Coaching program offered in the past, but the price tag put you off? Or the timing of the sessions didn't work with your schedule?
This self-paced course—covering everything the coaching series covered, but now including 74+ samples—is your answer. And for a delightfully budget-friendly price.
In Well-Fed Craft, you'll discover:
How to build a marketing piece that grabs readers and keeps them engaged.
What you must include on the website's homepage to ensure it gets found and read (and the most popular trends in web copy layout today!).
5 unusual project types you've likely never seen before (but which will add welcome depth to your marketing arsenal…).
The writing sample (a tiny part of a larger project), which, when the client saw it, had him increase the budget for the rest of the project by 150%!
The 1 case-study format guaranteed to instantly boost the color, drama and readability of your work.
The 2 elements that will instantly and significantly improve any sales letter.
The 1 powerful question—which, when you can answer it "yes"—will instantly boost the clarity and accessibility of any marketing piece.
Multiple copy-structuring tactics that powerfully and effectively "build a case" for a product or service.
3 real-world examples of copy that "gets into a client's world" and makes them FAR more receptive to your offering.
The 3 key white-paper types—straight from THE white-paper guru—that virtually all WPs fall into (talk about simplification!)
How to use "themes" to create a powerful thread that draws a reader along and highlights the benefits of a product or service.
Get immediately download Well-Fed Craft: The Fast Track to Marketing-Writing Mastery
8 examples of using humor to draw 'em in and keep 'em reading.
How using stories—real or fictitious—will legitimize, humanize and/or demonstrate a product or service.
The potent "___Questions" strategy that will instantly transform your client into "The Credible Good Guy."
The product-introduction brochure that took the form of an engaging and impactful "birth announcement"!
Numerous "Before/After" scenarios that underscore what works and what doesn't in a marketing piece.
The 2 resources that will dramatically enhance the creativity and results of any tagline, naming or headline exercise.
5 different brochure formats and examples of effective execution the client loved.
Dozens of examples headlines and subheads that catch a reader's eye, convey the benefits, and allow for productive scanning.
And much, much more!
"One of the best new multimedia courses on copywriting I've seen. Peter is a grizzled veteran in the field and his vast experience and track record of success, combined with great instruction, make this a must-have program for copy and content writers."
– Bob Bly
Author, The Copywriter's Handbook (+ 90 other books).
Why Did I Do This?
The Well-Fed WriterSince late 1993, I've been a commercial freelancer as well as the author of the award-winning Well-Fed Writer series. AND, related coaching, ezine, blog, ebooks, and more. The focus of all my resources has always been how to build a thriving commercial writing practice, NOT how to write those projects.
And fact is, there are TONS of "commercial-writing-business-building" resources out there, but almost nothing on how to write those projects.
But through the years, I kept hearing from many folks with no marketing background or coming from the journalism world. They were struggling to understand the "how-to-write" side of commercial writing (a.k.a. marketing writing), and searching—usually unsuccessfully—for resources that addressed that need.
"The real money in freelancing is writing for businesses—but most freelancers know little about this arena—especially how to write copy that will thrill your clients. Well-Fed Craft breaks it down and makes it simple. Well worth the time and money if you're serious about commercial writing."
– Kelly K. James
Author of Six-Figure Freelancing and Writer for Hire
More Important than Marketing
Moreover, coaching aspiring commercial writers since 2002—watching some thrive, while so many others struggled—led me to this epiphany:
The strongest predictor of enduring success as a commercial writer is writing ability—NOT marketing chops. You can be an amazing marketer, but if your commercial-writing skills aren't what they should be, you'll always struggle. But a writer with strong skills will naturally garner more business, more repeat business, and more referrals.
"You won't find anything else like this because there isn't anything like it. Well-Fed Craft is like peeking through the curtain and practically stealing the keys to success. This is so much more than a course; you're sitting side-by-side with a master as he reveals his secrets—all the elements of phenomenal commercial writing. It's the most comprehensive, sensible, smart course I've ever seen—full of the savvy insight of the best there is at the craft. Follow this, and you can't help but succeed. Peter, you've got something great here. Really great."
– Lori Widmer
Trade writer/editor, and blogger at Words on the Page
So, What Makes ME Such An Expert?
In this age of "Insta-Experts," you need to be careful whose advice you follow – and that means mine as well! So here's my 38-year story… I've been a successful commercial freelancer since 1994, and a successful sales and marketing pro for 16 years before that (starting with two summers of door-to-door book sales in college!).
I'm the author of the multiple-award-winning Well-Fed Writer series on commercial freelancing. The first edition was a Book-of-the-Month club selection, and the most recent edition won four industry awards.
None other than copywriting-industry icon Bob Bly said of TWFW: "This is the best information on how to make more money with corporate clients I have ever read. It answers everything you need to know."
I've self-published five books in all, and my ensuing self-marketing efforts—which necessitated creating a pile of effective marketing materials—yielded 100,000+ of my books/e-books in circulation, and a full-time living for over a decade.
Bottom line, I've been steeped in sales and marinating in marketing since 1978, and I've put ALL that experience, knowledge and marketing instincts into THIS program.
What's the Format of Well-Fed Craft?
The course contains 11 modules, each one (except Module 1, which is audio only) consisting of a video screen capture, as I scroll through a topic-specific PDF—chock-full of images of actual commercial writing projects—while pointing, explaining and dissecting those projects.
"There aren't many other freelancers I genuinely look up to and continually learn from. Peter is one of those rare exceptions. I've been recommending TWFW as my top pick for new freelancers for years—whether or not they plan to specialize in commercial writing; the marketing info alone is just that good.
But writers who DO go the commercial route quickly learn that clients expect them to know how to write a wide variety of projects, from web copy to white papers. But until now, I haven't seen a course that adequately teaches that "how." Well-Fed Craft finally—and admirably—fills that void, covering both the 'how' and the 'why.' If you're a fan of TWFW, this is your natural next step. "
– Jennifer Mattern
17-Year Freelance Business Writer & PR Consultant; Editor, All Indie Writers
Want to See a Sample?
To give you an idea of what the learning experience
will be like in the WFC video modules, go here.
Ready to "UN-Commoditize" Your Skills?
If you're struggling to build a consistently profitable writing practice, I suspect one reason is this: Your skills are similar to countless other writers. As such, clients don't have to pay the premium rates that those with uncommon—and less "commoditized" skills—command.
"Well-Fed Craft" will prepare you to earn those premium rates.
"Like his books, Well-Fed Craft is authentic, engaging, and packed with concepts that can make your business better while helping you do the same for your clients. Peter lets you look over his shoulder, as he walks you through the brainstorming and copywriting process on dozens of actual client projects. And, his strategies for upselling and "getting into the heads" of clients and their customers are golden for both new B2B writers and experienced ones needing a "kick in the (marketing) pants."
– Jake Poinier
18-Year Commercial Freelancer, and Writing-Business "Doctor" at DoctorFreelance.com
But Wait, There's More! (I've always wanted to say that…)
You'll also get 2 Bonus Modules—cleaned-up versions of two sessions from one of the past group-coaching series:
The "Writing-Exercise" Review (~60 minutes; combo audio module/PDF) You'll listen—and follow along with the separate PDF—as I discuss the results of a writing exercise based on a real-world project. You'll see the original document I instructed them to improve on, see/hear critiques of 4 participant submissions, and finally, see MY take on the project (which I'd delivered to the client). All my critique comments are embedded in the PDF for standalone study.
The Q&A (80+ minutes; audio-only): You'll listen in on the last session of the group-coaching series: A Q&A on ANY subject related to commercial writing (i.e., not just about craft). So, you'll hear a cleaned-up (i.e., only the good stuff!) audio recording jam-packed with solid info and insights into true "well-fed writing" success!
"Color me impressed! From brochures, taglines and headlines through storytelling, humor and white papers, Well-Fed Craft delivers. I absolutely loved his "Before/After" examples of the key types of marketing materials we're often called on to write. Peter knows his stuff and has taught many of us much about really make a living as freelancers. I highly recommend this excellent course."
– Anne Wayman
AboutFreelanceWriting.com
AND, Yet Another "Goodie"!
10 of the 11 modules are based on PDFs featuring dozens of actual commercial writing samples. Well, I'm giving you ALL those PDFs as well. When you want to go back and study the material more closely, now you'll have the option to just study the actual samples, without being confined by the video-capture format.
NEW: As a new addition to this release, I've added summaries to the end of all the standalone PDFs—a bulleted list of points covered in the corresponding video module.
"There are lots of courses on how to sell your copywriting services, but where are the ones that actually teach you HOW to write copy clients will gladly pay handsomely for? Well-Fed Craft fills that gap. You'll get inside the head of a veteran writer as he takes you step-by-step through writing all the key commercial-writing project types—along with using themes, humor, stories and more, in your copy. His technique for killer "short copy" (taglines, names, headlines, etc.) is worth the price of the class alone!"
– Linda Formichelli
Writing Coach and co-founder of Renegade Writer Press
What's at Stake Here?
Good marketing copywriters earn far more because there are far fewer of them with these skills:
They intimately understand the critical cornerstones of effective marketing copy: Audience, Features vs. Benefits, USP (Unique Selling Proposition), The Curse of Knowledge, and others (ALL covered in the "Sales/Marketing Refresher" in Module 1).
They know that the structure of a piece—how you "build a case" for something—is just as important as the words you use (and virtually every module of WFC covers "structure"!).
They're masters at identifying the benefits of a product/service, and conveying those benefits in language their audience understands and will respond to.
They're comfortable working on brochures, ads, direct mail, web writing, landing pages, "content" (case studies, white papers, etc.) and much more.
Get immediately download Well-Fed Craft: The Fast Track to Marketing-Writing Mastery
These are exactly the things you'll get from Well-Fed Craft…
The result? You'll separate yourself from the countless writers with those interchangeable, "commoditized" skills—skills that, by definition, will command lower rates—and enter into a far more select, higher-paid group.
"There's a lot of info out there on the business of freelancing. But mastering the craft of writing effective marketing materials will give you the edge in today's marketplace. Well-Fed Craft teaches you all the basics—and more. Highly recommended. On a personal note, Peter is one of the most experienced 'commercial' writers I know. He's one of the good guys in this business—someone who truly cares about helping other writers succeed."
– Steve Slaunwhite
Author, The Everything Guide To Writing Copy
"How Do I Get Access to Well-Fed Craft?"
While the flash drives I employed in the initial release had a high "cool" and "novel" factor, for this re-release, I'm committed to choosing a content-delivery system that will quickly and reliably get the product onto your computer, and without the delays, hassles or glitches we had with the flash drives and DropBox options used in the first release.
You'll be viewing the program on a membership-site-style platform, where you'll have the option to download the entire program (video modules, bonus materials, and PDFs), onto your own computer. No limited availability, no expiration dates. Once you have it, it's yours.
My Money-Back GuaranteeThe Well-Fed Writer
If you don't feel Well-Fed Craft met your expectations, for any reason, just let me know within 30 days of purchase for a full, no-questions-asked refund. Of course, you'll likely have the content on your computer, so suffice to say, The Golden Rule applies…
"Peter Bowerman's Well-Fed Craft fills a major gap for marketing copywriters – HOW to actually write the many types of projects clients will pay handsomely for. There's no greater market differentiator than a solid skill set, and no better person to learn from than Peter. He's helped launch thousands of copywriting careers – including mine."
– Casey Hibbard
Case-Study Expert Author, Stories That Sell
"OK, How Much Is It?"
I really wrestled with the price on this. I mean, think about what I'm offering here. No less than…
Step-by-step blueprints for writing a whole host of popular commercial projects.
PLUS a powerful array of marketing-writing tactics and strategies designed to make your writing more compelling, engaging and persuasive.
In essence, a potent tool kit that'll give you the confidence to take on ANY high-paying commercial writing project.
I know what that's worth, because I know how much further ahead of the game I'd have been if I'd had THIS when I started out in 1993.
So, how much would this extreme "learning-curve-shortener" be worth? Certainly $1000 – about what you'd make on one mid-sized commercial project.
Well, it's certainly worth that, but such a price would put it out of the reach of many. So, how about something more do-able, like $597?
That would certainly reflect the value of the thing, and at a far more accessible price.
That said, my goal is to put this product within reach of as many people as possible (and yes, sell as many as possible). As such, I'm offering it at……
Here's What You'll Get in The Fast Track to Marketing-Writing Mastery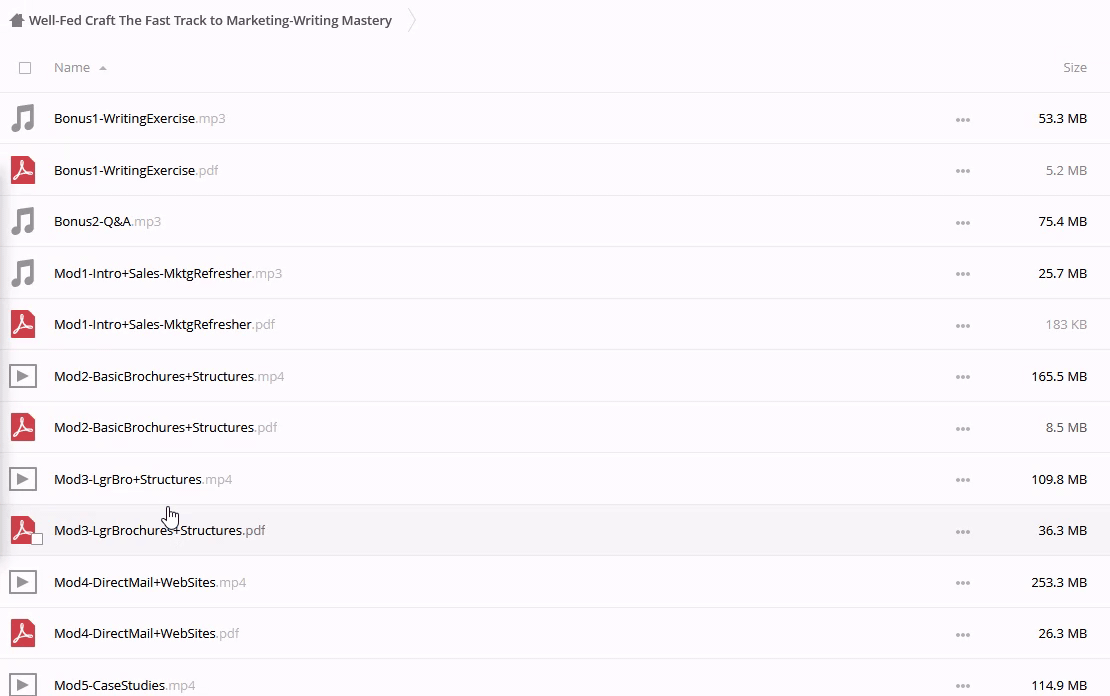 – Download Sample files "Well-Fed Craft: The Fast Track to Marketing-Writing Mastery"
Course Requirement: Well-Fed Craft: The Fast Track to Marketing-Writing Mastery
Real Value: $297.0000
One time cost: USD59.0000
Frequently Asked Questions For "Well-Fed Craft: The Fast Track to Marketing-Writing Mastery"
How to make payment for "Well-Fed Craft: The Fast Track to Marketing-Writing Mastery" ?
Please add to cart on this page and go to checkout page.

You can also add as many other products as you like and make a one-time payment.
We accept several type of Stripe payments such as Visa, Mastercard, American Express, Discover, Diners Club, Google Pay, Apple Pay and JCB, payments from customers worldwide. Paypal & Bitcoin please contact us.
Is it safe?
100% Secure Checkout Privacy Policy
Encryption of sensitive data and communication.
All card numbers are encrypted at rest with AES-256 and transmitting card numbers runs in a separate hosting environment, and doesn't share or save any info.
How can we deliver you the course?
How long do I have access to the course?
How to download "Well-Fed Craft: The Fast Track to Marketing-Writing Mastery" ?
Enjoy "Well-Fed Craft: The Fast Track to Marketing-Writing Mastery" in your account page.
Download only one file at a time. Sometimes doing all of the files at once will lead to them all freezing.
Also, please do not attempt to download to a mobile device. These should be saved to a computer and then synced to devices such as phones and tablets.
You can also learn online instead of downloading, but we encourage you to download for better results and viewing quality during your learn. Lastly, download times are much quicker in the mornings, before noon, Pacific time. during download make sure your device is not sleeping off screen.
What is the refund policy "Well-Fed Craft: The Fast Track to Marketing-Writing Mastery"?
We'll Bear The Risk, You'll Take The Results…
Within 30 days of purchased |Well-Fed Craft: The Fast Track to Marketing-Writing Mastery  |, if you don't get anything out of the program, or if your order has any problem, or maybe for some reason, you just don't like the way it is. Please contact us and we will do our best to assist. Thank you for your understanding.
Have More Questions?
Our support staff is the best by far! please do not hesitate to contact us at email: [email protected] and we'll be happy to help!
You want to get "Well-Fed Craft: The Fast Track to Marketing-Writing Mastery" now right?!!!
YES! I'M READY TO ADD TO CART BUTTON ON THIS PAGE NOW !