Here, for only his third time with the Warrior Collective, he has filmed another in-depth volume of work, showcasing his unique AMSB approach to coaching, Format File: 1 MP4
---
Barry Robinson – Elite Boxing for Combat Sports – Ring Craft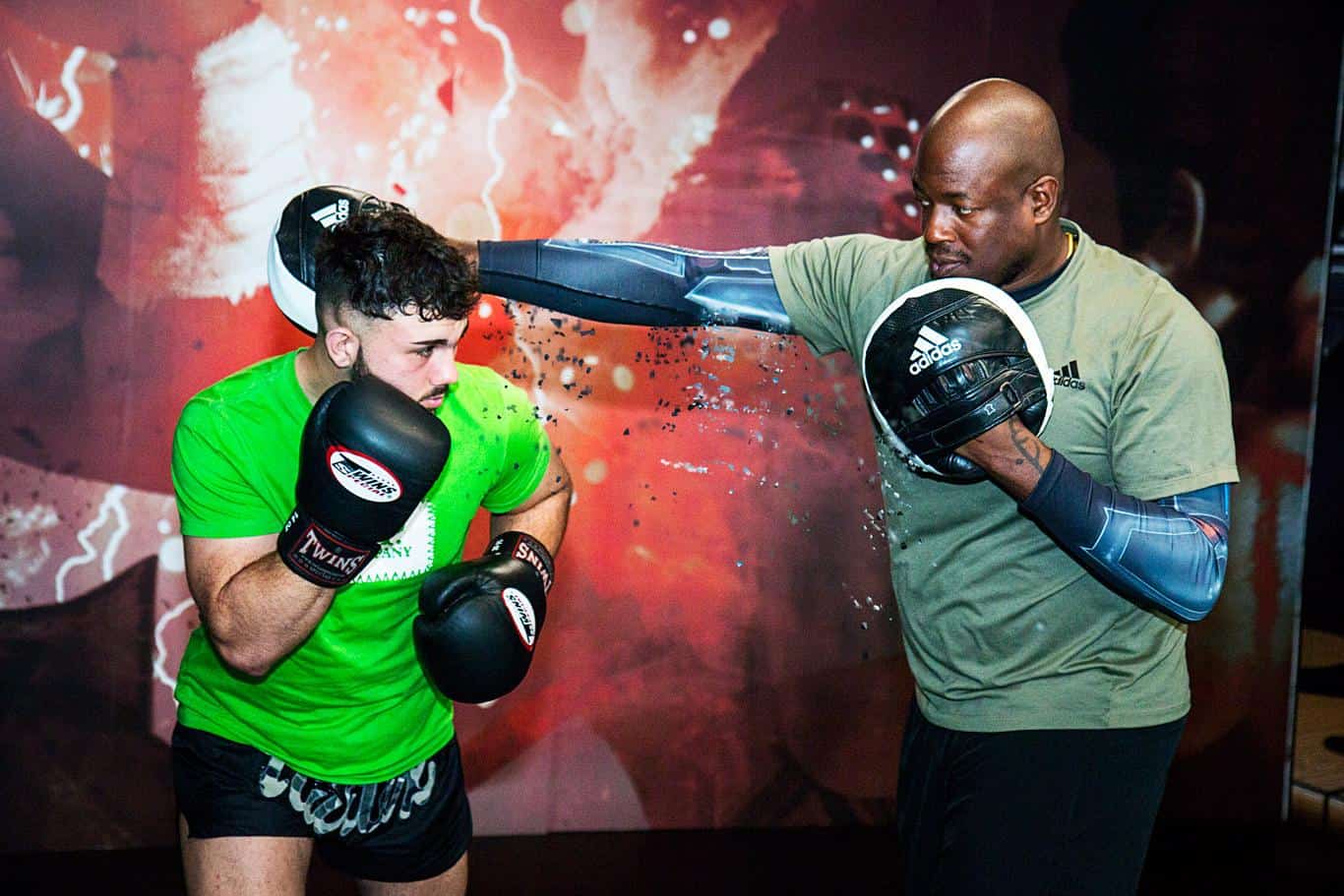 Elite Boxing for Combat Sports – Ring Craft with Barry Robinson
Barry Robinson is widely regarded as one of the highest level and most uniquely talented/experienced boxing for combat sports coaches in the world today. Founder of his own systemised approach to coaching, a million styles boxing (AMSB), he has won fans globally for many years through his unparalleled ability to raise the fight IQ of his athletes through mastering ring craft. He has worked on fight camps with some of the world's best fighters from a whole range of different martial arts/combat sports including the likes of Fedor Emileanenko, Jose Aldo, Cris Cyborg, Sitthichai Sitsongpeenong, Artur Kyshenko and many more.
Alongside his fight preparation and coaching, he is also truly outstanding at film study and fight/fighter breakdowns. This combination of skills puts him in demand the world over to take part in the training of champion athletes from Boxing, MMA, Muay Thai and Kickboxing.
A photo of Billy Deniz from the Elite Boxing for Combat Sports Volume on Ring Craft
Here, for only his third time with the Warrior Collective, he has filmed another in-depth volume of work, showcasing his unique AMSB approach to coaching
Elite Boxing for Combat Sports – Ring Craft
In it, he goes through step by step, a whole manner of amazing coaching content, knowledge and drills he personally likes to utilise regularly with the world class fighters he trains – Controlling the Outside, Basic to Advanced Switching, Compound Skill Drills, Boxing for Combat Sports, Dominating the Centre, Pad Work for Ring Craft.
So, whether you are looking to take your own personal game to the next level or want to develop further as a coach, you will find this volume of work indispensable.
A photo of Barry Robinson from the Elite Boxing for Combat Sports Volume on Ring Craft
This video includes:
Drilling 'Da, Da, Da'. An introduction to and breakdown of one of the fundamental movements needed to effectively create space in Combat Sports.
Understanding Distance. In order to maintain control in the fight, you have to understand how to keep the fight long as well as short.
Changing Temperature. How to use a variety of rhythm changes and body positioning to create different attacking styles whilst fighting.
How to transition stances. Drills to ensure you can switch stance going any in direction without your opponent noticing the angle change.
Selling Direction Feints. How to use advanced footwork feints to completely off balance and destabilise your opponents attacks.
Create Compound Skills. A systematic approach to ensuring you have the level of agility needed in elite fights to change angles, direction or rhythm at any point.
Bi-Stance-ual. A framework of drills designed to ensure you are happy switching stance to counter and nullify any opponents movement.
Adding Strikes. An in-depth look at how you can add strikes such as knees, kicks and elbows whilst still maintaining a high level of mobility.
Owning the Centre. How to use this system of ring craft to be as controlling in the centre as you are on the outside.
Using the Ropes. Drills to develop your ability to cut off the ring and pin your opponent onto the ropes no matter which way they try to escape.
Freestyle Control. Putting turns into the mix so that you can dictate where the fight occurs at any given time.
Coaching Ring Craft. A series of explosive drills designed to ensure coaches can work ring craft with their fighters whilst utilising pad work.
And more….
Below is an extract from the series. This clip is from Video 2 – Basic to Advanced Switching
Coach Barry Robinson Ring Craft Breakdown
Find out for yourself why Barry Robinson is one of the most sought after Boxing coaches in the world, purchase your copy of Elite Boxing for Combat Sports – Ring Craft with Barry Robinson today!!
The order we recommend to watch and learn Barry Robinson's full system on Warrior Collective is as follows
Elite Boxing for Combat Sports – Reactive Mitts
Elite Boxing for Combat Sports – Mastering Agility
Elite Boxing for Combat Sports – Ring Craft
How to Box at World Level – Controlling the Fight
How to Punch Harder and Faster – World Level Boxing
How to Train for World Level Boxing – Fighter Drills
Rhythm Step 101 – Footwork for Combat Sports
MMA Striking Evolved – The Blueprint for World Class Striking
You can purchase Barry's whole system in one go at a discounted price by clicking on the link below
Barry Robinson Bundle
To save even more money and take advantage of owning every single volume on this site, click on the link below
Everything Bundle
Here, you can also learn more about all the other exceptional exceptional Muay Thai, Kickboxing, MMA and Boxing Instructional's featured on the Warrior Collective!
Don't forget to download the Warrior Collective App to your phone or device to enjoy free of charge streaming of any volume you purchase from this site. Available on Apple and Android. Following purchase of this volume (and the creation of an account on this site if this is your first time) you will receive an automatic email containing the link from which to download this volume. We always recommend downloading it directly to a desktop or laptop computer initially. Please read the full digital download guide here. Any volumes purchased will also automatically get synced to an existing account on the Warrior Collective App (as long as the same email is used to create the account on both).
Here's What You'll Get in Barry Robinson – Elite Boxing for Combat Sports – Ring Craft

– Download Sample files "Barry Robinson – Elite Boxing for Combat Sports – Ring Craft"
Course Requirement: Barry Robinson – Elite Boxing for Combat Sports – Ring Craft
Real Value: $30
One-time cost: USD 10
---
Frequently Asked Questions For "Barry Robinson – Elite Boxing for Combat Sports – Ring Craft"
How to make payment for "Barry Robinson – Elite Boxing for Combat Sports – Ring Craft"?
Please add to the cart on this page and go to the checkout page.

You can also add as many other products as you like and make a one-time payment.
We accept several types of Stripe payments such as Visa, Mastercard, American Express, Discover, Diners Club, Google Pay, Apple Pay, and JCB, payments from customers worldwide. Paypal & Bitcoin please contact us.
Is it safe?
100% Secure Checkout Privacy Policy
Encryption of sensitive data and communication.
All card numbers are encrypted at rest with AES-256 and transmitting card numbers runs in a separate hosting environment, and doesn't share or save any info.
How can we deliver the course?
How long do I have access to the course?
How to download "Barry Robinson – Elite Boxing for Combat Sports – Ring Craft"?
Enjoy "Barry Robinson – Elite Boxing for Combat Sports – Ring Craft" on your account page.
Download only one file at a time. Sometimes doing all of the files at once will lead to them all freezing.
Also, please do not attempt to download to a mobile device. These should be saved to a computer and then synced to devices such as phones and tablets.
You can also learn online instead of downloading, but we encourage you to download for better results and to view quality during your learning. Lastly, download times are much quicker in the mornings, before noon, Pacific time. during download make sure your device is not sleeping off the screen.
What is the refund policy "Barry Robinson – Elite Boxing for Combat Sports – Ring Craft"?
We'll Bear The Risk, You'll Take The Results…
Within 30 days of purchasing "Barry Robinson – Elite Boxing for Combat Sports – Ring Craft", if you don't get anything out of the program, or if your order has any problem, or maybe for some reason, you just don't like the way it is. Please contact us and we will do our best to assist. Thank you for your understanding.
Have More Questions?
Our support staff is the best by far! please do not hesitate to contact us at email: [email protected] and we'll be happy to help!