Available download within 1 – 3 Days, Format File: [3 – mp4] File Size: 3,426 GB
---
Lauren Brooks – Z Health Kettlebell Workshop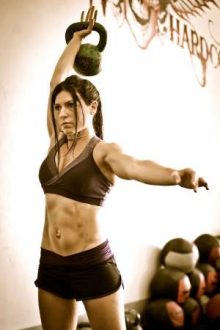 About Kettlebell Workshop with Z-Health
Are you ready to revamp your training? Whether you are a beginner or an advanced kettlebell user, you will benefit tremendously from this DVD. Lauren and Sara will show you how to improve your technique, increase your strength, and prevent injuries all with their fun, clear and non-intimidating approach. You will be given the tools to achieve incredible power for quicker fat loss during all your workouts. The perfect compliment and must have for your kettlebell DVD collection. DVD FEATURES: – Invigorating & extended Joint Mobility section using Z-Health principles – Two Intense Follow Along Workouts (written as well for your convenience to take with you) – Complex drills and topics that are easy to digest – Tip pages highlighting the must-knows for each drill – Bonus section on training during pregnancy – Easy Navigation Features and Chaptering on both discs OVER 16 EXERCISES COVERED IN DETAIL: – Snatches – Bottoms Up Clean and Press – Renegade Rows – Alternating Double Cleans – Double Snatches – Double High Pulls – Turkish Get Ups – Windmills and many more…
While i only reviewed part of the first DVD, what i saw was excellent quality instruction by RKCs eager to dissect the fundamentals of the kettlebell movements and convey safe and effective technique. I found myself rewinding and listening to the subtleties of the swing, clean, press, snatch, get up and more, in coherent, physiology-based terms. While watching, I had a light bell in hand and went through the movements, having many "aha" moments. While i am a neophyte, having started with KBs about 3 months ago, i think the level of detail and instruction would benefit anyone swinging these hunks of iron around. It is all in the form and technique, after all. While not a "glamorous" setting, this DVD is a gem. And in the world of kettlebell fluff ( see the polished fare for consumption on Collage Video-), this DVD is a must have. For those of you who have Pavel's "Enter the Kettlebell", this DVD will fill in the gaps of the finer, nuanced points of the movements. You get to the "granular" level. Example- the swing- i thought i was doing it properly until it was explained to pull the bell downward between the legs forcefully to load the hamstrings. I thought i was doing a good job snapping my glutes to fly the bell forward……
Again. this is a vid of a small workshop, so if you are looking for a glam setting follow- along, go to Lauren Brooks' other excellent DVDs. But the detail covered here is for those looking to break the movements down, into bone and muscle and nerve.
Here's What You'll Get in

Lauren Brooks – Z Health Kettlebell Workshop
– Download Sample files "Lauren Brooks – Z Health Kettlebell Workshop"
Course Requirement: Lauren Brooks – Z Health Kettlebell Workshop
Real Value: $49.9900
One time cost: USD17.5000
---
Frequently Asked Questions For "

Lauren Brooks – Z Health Kettlebell Workshop

"
How to make payment for "

Lauren Brooks – Z Health Kettlebell Workshop

" ?
Please add to cart on this page and go to checkout page. 

You can also add as many other products as you like and make a one-time payment.
We accept several type of Stripe payments such as Visa, Mastercard, American Express, Discover, Diners Club, Google Pay, Apple Pay and JCB, payments from customers worldwide. Paypal & Bitcoin please contact us.
Is it safe?
100% Secure Checkout Privacy Policy
Encryption of sensitive data and communication.
All card numbers are encrypted at rest with AES-256 and transmitting card numbers runs in a separate hosting environment, and doesn't share or save any info.
How can we deliver you the course?
How long do I have access to the course?
How to download "

Lauren Brooks – Z Health Kettlebell Workshop

" ?
Enjoy "

Lauren Brooks – Z Health Kettlebell Workshop

" in your account page.
Download only one file at a time. Sometimes doing all of the files at once will lead to them all freezing.
Also, please do not attempt to download to a mobile device. These should be saved to a computer and then synced to devices such as phones and tablets.
You can also learn online instead of downloading, but we encourage you to download for better results and viewing quality during your learn. Lastly, download times are much quicker in the mornings, before noon, Pacific time. during download make sure your device is not sleeping off screen.
What is the refund policy "

Lauren Brooks – Z Health Kettlebell Workshop

"
Have More Questions?
Our support staff is the best by far! please do not hesitate to contact us at email: [email protected] and we'll be happy to help!
---
You want to get "Lauren Brooks – Z Health Kettlebell Workshop" now right?!!!
YES! I'M READY TO ADD TO CART BUTTON ON THIS PAGE NOW !