Format File:
4 MP4

File Size:

2.40 GB Tom DeBlass' "Half Domination" 4 DVD Set Will Simplify & Slow Down The Game To Show You An Easy Set Of Grips & Moves That Will Hold Even The Most Explosive Young Beasts In Check.
---
Tom DeBlass – Half Domination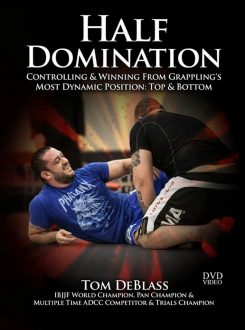 Tom DeBlass is one of the most accomplished American Grapplers on the planet
Learn the half guard secrets of one of the best grapplers
Frustrate and destroy all of your competition
Simplify and slow down the game
Hold back even the most explosive grapplers
Learn from the coach of Garry Tonon
Learn The Half Guard Secrets One Of America's Best Grapplers Uses To Frustrate & Destroy All Of His Competition – Even Though He's a "Big Guy" Over 30
Tom DeBlass' "Half Domination" 4 DVD Set Will Simplify & Slow Down The Game To Show You An Easy Set Of Grips & Moves That Will Hold Even The Most Explosive Young Beasts In Check.
Tom DeBlass is about 225 lbs. and his heart has to account for about 224 lbs. of that.
In his last MMA fight, after he knocked his opponent down and the guy was flailing around on the ground half-conscious, he asked the referee to stop it rather than blast a defenseless person.
He also made national news when he was caught on video being challenged to a fight by a much smaller, belligerent drunk. Instead of throttling the guy, he calmed him down, gave him a hug and made sure he had a safe ride home. His only "real job" was teaching disabled elementary school kids.
But don't mistake kindness for weakness…
Tom is a 3x winner of the ADCC Trials, he is a Masters World Champion in BJJ at Black Belt, Pan Black Belt Champ and has won basically everything else. Some of the hottest young grapplers today like Gordon Ryan and Gary Tonon (Tom's First Black Belt) train with him often.
If you're looking for the keys to defeating your opponents with half guard look no further.
Deblass with Gordon Ryan, 3x EBI Champion
Through the teachings of Tom Deblass I was able dominate No-gi competition coming up the ranks using almost exclusively half guard as a foundation for my game. His teachings in the half guard were the single most important components of my competitive success till ADCC 2013.
"Still to this day many these half guard setups lead to some of my favorite attacks." Garry Tonon, multiple time EBI Champ, ADCC Vet
Tom has a way of teaching that is unlike any grappling instructor anywhere.
He actually was a school teacher! He feels very comfortable in the half guard, with or without a gi. He gets a very different set of grips in half guard – he likes to form a shield, grab up high on the neck and effortlessly sweep his opponent.
Even as an older guy working out with much younger and often faster guys – Tom has no problem doing this.
Tom DeBlass has the very singular ability to inspire more out of world class competitors and the average Joe who spends his days doing rounds in corporate America. His half-guard instruction is easy to follow and nearly impossible for your opponents and training partners to deal with.
"Whether you are working from the top half or from the bottom, Tom DeBlass has the answers."
Todd Schaffer, Brown Belt
Be Careful Of The Person Who Lays Down Their Shield On Purpose
This is one of Tom's favorite sayings… When he lays down his shield, he explodes into action. He likes to grab the underhook, take a relatively high grip, and he is off. He doesn't even need to move fast. Once you know the sequence, half guard is such an advantage that it doesn't matter if you are older, slower, or weaker – you just need to know how to use your body the right way.
No Underhook, No Problem.
One of the biggest problems we hear is that people feel smashed underneath half guard. Well, this is no problem for Tom. If he gives up an underhook the guy still isn't going to pass. He understands the mechanics of the position – he knows where his opponent is weak.
That is just where he throws him. Remember: your opponent is always weak in some aspect of his game – you just have to know where.
"Achieving success on the mats based on 2 attributes: competence and confidence. For some one comes the other but I really believe that will and skill are difference makers. I've watched Tom diligently and deliberately develop both from his first steps in the mats almost 15 years ago. I truly believe what made Tom a successful competitor and instructor has been his no nonsense approach to simplicity and effectiveness over complex and unreliable techniques."
Ricardo "Big Dog" Almeida – UFC Star, 3x ADCC Medalist
Smash The Half Guard With Pressure, Kimuras & Footlocks!
Tom is one of the most feared footlock guys in the world and you have to see his toe hold from top half guard… He shows it here. He also demonstrates the "weirdest" Kimura you've ever seen (he does it on the elbow), and he has a very precise Guillotine that will prevent you from being rolled.
Never Have Your Guard Passed
Tom has never had his guard passed to side control (for points) in competition – and he competes a lot. Think about that…
He is competing all of the time and no one can get to side control. Imagine if you could never have your guard passed!
To keep his guard Tom isn't turning upside down making crazily explosive movements – he has a very even set of principles and moves that anyone can do. The key is in how he teaches and makes the techniques easy to learn.
The principles are easy.
So what's on the DVD's?
DVD I
Basic Shield Z Guard
Z Shield Entry With Underhook
Attacking Near Side Leg/Back Door
Countering A Strong Wizzer: Sweep To Over/Under Pass
Weave Counter To Arm Drag/Under Hook
Knee Flare Sweep
Far Leg Attack To Stand Up Sweep
Waiter Sweep
Alternative Waiter Sweep
4 Options From The Waiter Sweep Entry
DVD II
Getting Past The Knee Shield
Countering The Under Hook
Kimura From Top Half
Guillotine From Top Half
Weave Pass From Top Half
ShinOn Shin Pass
Over/Under Pass
Toe Hold From Top Half
Butterfly Hook Pass
Knee Slice Pass
DVD III
Elbow Trap Sweep From Smash Half
Alternate Recovery From Smash Half
Reframing With The Hook
Butterfly Hook Sweep
Butterfly Half Guard Reversal
Spartan Push
Calf Crank From Lockdown
Reversal From Lockdown
Belly Down Leg Lock Series
Kimura From Half Guard
Kimura Series
Omoplata Sweep From Half Guard
DVD IV
Guard Retention Workshop
So, How much is it?
Well, what is it worth learning from the Half Guard Master? To learn to possibly NEVER have your guard passed?!
This is the most groundbreaking Half Guard specific program ever released.
Renowned teacher Tom Deblass is going to draw back the curtain and let you in on the secrets he's perfected through years of hard work.
So again, how much would you expect to pay for this kind of learning experience?
We could easily have charged $197 and it would have been a bargain.
But we're not going to do that.
Instead, cut that price by more than 60%!
That's right…
Tom DeBlass' "Half Domination" DVD Course
in which he reveals all his secrets
for just… $77
There's no reason not to take action.
This package will change your life – Guaranteed.
If you don't like it for any reason just send it back for a full refund…
no questions asked.
Here's What You'll Get in

Tom DeBlass – Half Domination
– Download Sample files "Tom DeBlass – Half Domination"
Course Requirement: Tom DeBlass – Half Domination
Real Value: $77.0000
One time cost: USD27.0000
---
Frequently Asked Questions For "

Tom DeBlass – Half Domination

"
How to make payment for "

Tom DeBlass – Half Domination

" ?
Please add to cart on this page and go to checkout page. 

You can also add as many other products as you like and make a one-time payment.
We accept several type of Stripe payments such as Visa, Mastercard, American Express, Discover, Diners Club, Google Pay, Apple Pay and JCB, payments from customers worldwide. Paypal & Bitcoin please contact us.
Is it safe?
100% Secure Checkout Privacy Policy
Encryption of sensitive data and communication.
All card numbers are encrypted at rest with AES-256 and transmitting card numbers runs in a separate hosting environment, and doesn't share or save any info.
How can we deliver you the course?
After you pay for "

Tom DeBlass – Half Domination

" on our library, please follow the download links in your account page here: |

Tom DeBlass – Half Domination

 |
In some case, the link is broken for any reason, our supporter will renew the download links and notify to your email within a few hours business day. Your patience is appreciated.
How long do I have access to the course?
 How does lifetime access download?
After enrolling, you have unlimited download to this |

Tom DeBlass – Half Domination

|  for as long as you like – across any and all devices you own.
How to download "

Tom DeBlass – Half Domination

" ?
Enjoy "

Tom DeBlass – Half Domination

" in your account page.
Download only one file at a time. Sometimes doing all of the files at once will lead to them all freezing.
Also, please do not attempt to download to a mobile device. These should be saved to a computer and then synced to devices such as phones and tablets.
You can also learn online instead of downloading, but we encourage you to download for better results and viewing quality during your learn. Lastly, download times are much quicker in the mornings, before noon, Pacific time. during download make sure your device is not sleeping off screen.
What is the refund policy "

Tom DeBlass – Half Domination

"?
Have More Questions?
Our support staff is the best by far! please do not hesitate to contact us at email: [email protected] and we'll be happy to help!
---
You want to get "Tom DeBlass – Half Domination" now right?!!!
YES! I'M READY TO ADD TO CART BUTTON ON THIS PAGE NOW !